By: Ashmar Mandou
Five years ago, soap opera star Adamari Lopez was diagnosed with breast cancer. Since then, she has made it her purpose to provide Latinas across the country with words of courage and hope. And to make sure women put their health first. "As women, we feel the need to do everything. We put everyone else first and I am here to remind women that we need to start putting our health as top priority," said Lopez, who teamed up with Yoplait Save Lids to Save Lives for a fourth year in a row. "I am so happy to have teamed up with Yoplait once again to help Latinas understand the importance of their health and the importance of talking about this issue with their loved ones." Lopez understands the fear and loneliness one feels once diagnosed. "I was lucky enough to have my mother to support me throughout the whole process. But there were times in which I just couldn't bring myself to get out of bed," said Lopez. "That is why it is so important for me to travel and visit with women who have their own stories or who are afraid to visit a doctor. It is therapy for most of these women and I feel honored to share their experience and to hear their stories."
To bring her message on a larger scale, Lopez joined, Mira Quien Baila, a dance show in which each week she competes on behalf of the Susan G. Komen foundation. Lopez, who was in town last Thursday and Friday, called into Lawndale Bilingual Newspaper to discuss future projects and what our readers could do to live a healthier life.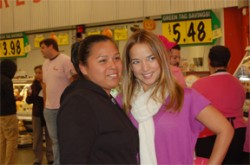 Annual Checkups
One in eight women in the United States will develop breast cancer. That is a scary number to come to terms with and what is even scarier is that Latinas have a higher incidence of mortality. That is why annual checkups are extremely important. I know times are tough and families are budgeting how much to spend monthly, but there are clinics, there are organizations that help guide women in the right direction. Also, self-examination is key. This is not a time in which women should be shy about their bodies; on the contrary, Latinas should take a more proactive approach in regards to their health.
Future Projects
For the past couple of years, I have thought about writing a book about my story to share with other women. I have also thought about creating a documentary that sheds more light on the issue in relation to Latinas. Unfortunately, due to my schedule and my commitment to Yoplait my days are packed. So they will have to be put on hold for now. But these projects are something that I have had in mind for quite some time and hopefully in a couple of years they will come to fruition.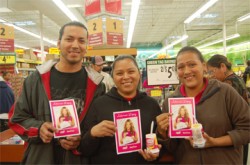 Distractions
What helped me through my experience was my mother, which I have often said. Also, my faith. It is important to not surrender to the disease or to let it define you. Even on the days in which you cannot get out of bed, try. Walk everyday, exercise does help. It helps clear your mind and helps you to maintain a positive attitude. A positive attitude is particularly important. Surround yourself with family members; their love will help you through the process. And also remember to surround yourself with laughter. Those are the things that helped me get my mind off of the disease when I was diagnosed. I had to remember that this was just a little detour and that I was going to survive. Everyday I remained positive.
Message
I would like to thank my Latinas in Chicago who came out to show their support. It has been and continues to be a pleasure to talk with you and to listen to your stories. And I want you to know that we are in this together. Never feel you have to go through this alone. And remember to keep the dialogue open about the importance of keeping your health first for the next generation of women.