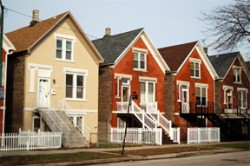 El Comité pro Back of the Yards Unificado (CUBY), grupo determinado a borrar los límites políticos que actualmente dividen el barrio de Back of the Yard en cinco distritos, se reunió en un intento sin precedentes de unificar políticamente a la comunidad, durante el proceso de redistribución de distritos de este año, a principios de este mes.
Durante los últimos 10 años, Back of the Yards se ha dividido en cinco distritos: 3 11, 12, 16 y 20. En audiencias recientes, representantes de CUBY han testificado que el haberse extendido hasta el extremo de cinco distritos ha obstaculizado y complicado el tan necesario progreso de la comunidad. Además, CUBY ha testificado que la demarcación de Back of the Yards en un distrito nuevo, en su mayoría latino, ayudaría a propiciar la paz, la educación, el desarrollo económico y el mejoramiento del área.
La redistribución de la comunidad de Back of the Yards en una entidad cohesiva, hará la estabilidad socioeconómica del barrio la responsabilidad de un concejal, no cinco. Si la redistribución de distritos de la ciudad de este año no sale como planeado, los límites del histórico barrio continuarán pareciendo las líneas arbitrarias de un rompecabezas.
Aunque los límites políticos actuales dividen drásticamente la comunidad, los residentes del barrio siguen reuniéndose para mejorar la calidad de vida del lugar. Las reuniones destacaron una nueva iniciativa, dirigidos por el Concilio del Barrio de Back of the Yards (BYNC), una organización de apoyo, como CUBY, servirá para unir y mejorar el barrio. BYNC, en colaboración con LISC Chicago, ha implementado el Programa Great Neighborhoods, un programa diseñado a mejorar la calidad de vida de los residentes de Back of the Yards por medio de un amplio desarrollo económico y social.