By: Ashmar Mandou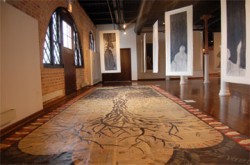 When you ask Jose Lopez, executive director of the Institute of Puerto Rican Arts and Culture, how IPRAC speaks to him, his eyes glimmer and he lets out a leisurely exhale, as if to recount all the poignant moments he has shared with the organization in the last decade. "It is where preservation meets inspiration," he says with an all knowing smile. "This is a place that represents our community's past and future. It is very exciting to walk through those doors every morning and know that we are creating a space that engages and educates."
Lopez has another reason to smile about these days. After ten years of struggle, setback, and disappointment, the Chicago Park District of Commission voted unanimously on February 8 to designate IPRAC as a Museum in the Park, nationally recognizing it as the only museum dedicated to the preservation and promotion of Puerto Rican history and culture in the United States. "It is a dream come true," says Lopez. "It is a delight. It is a challenge. It is what our community has waited for, for so many years."
IPRAC now joins the ranks of the Museum of Science and Industry, the DuSable Museum, and the National Museum of Mexican Art. Chairman of the Board of IPRAC Ray Vazquez expressed his gratitude upon the announcement by stating, "This is a historic day for Chicago's Puerto Rican community, but more importantly, it speaks to Chicago's commitment to diversity. Today, all of Chicago should celebrate this momentous occasion."
Situated behind the main part of Humboldt Park, IPRAC currently houses three exhibits one of which is called "Lo Que Trajo el Barco" or "What the Ship Brought," from local artists such as, Miguel Luciano, Josue Pellot, and Ramon Miranda who all depict the story of early colonialism in Puerto Rico and the Division Street Riots of the 60s through photography and light installation. "This is a monumental moment for all us to finally have a central location that can share the stories and works of some of the most profound figures that helped shape what Puerto Rico is today," says Lopez. A celebratory event has yet to take place for IPRAC, but all are encouraged to attend IPRAC upcoming events which includes a workshop hosted by Puerto Rican artist Bibiana Suarez on Saturday, Feb. 18 and a photo essay exhibition that will 'explore place attachment, sociopolitical development and community action among Latino youth,' on February 24.
"Our mission for the museum is not to have a building that simply hangs artwork on the walls," says Lopez. "We want this to be a living and breathing museum that is in a constant state of evolution and engagement. We want our exhibits to interact with those who visit IPRAC and host thought-provoking workshops that leave people with a real sense of what Puerto Rican history and culture is about."
If you would like to learn more about IPRAC, visit www.IPRAC.org or call 773-486-8345. IPRAC is located on 3015 W. Division St.