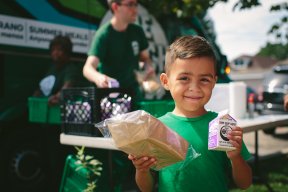 Por: Ashmar Mandou
Ahora que ha terminado oficialmente el año escolar, muchos padres de bajos ingresos se preocupan por la salud de sus hijos durante las vacaciones de verano. De acuerdo a Greater Chicago Food Depository, una vez que termina la escuela, miles de niños de Chicago ya no reciben las comidas gratis o a precios reducidos que han recibido en la escuela. A nivel nacional, solo 15 de cada 100 niños que reciben comidas en la escuela gratis o a precio reducido, hacen las comidas de verano, de acuerdo a Food Resource and Action Center. En el Condado de Cook, la necesidad es mayor. Sesenta y nueve por ciento de los niños elegibles recibieron comidas gratis o a precios reducidos en la escuela. Sin embargo, solo el 12 por ciento de esos niños tomarán las comidas de verano. Para combatir el hambre y garantizar que todo niño recibe una comida nutritiva, Greater Chicago Food Depository, con la ayuda del Programa de Servicio de Comida de Verano del Departamento de Agricultura de Estados Unidos (SFSP); la Junta de Educación del Estado de Illinois; y Community Organizing and Family Issues, distribuirán comidas de verano en toda el área de Chicago. El Autobús de Almuerzos de Greater Chicago Food Depository viajará por varios barrios de la ciudad para brindar acceso a comidas de calidad para los niños que lo necesiten. El Autobús del Almuerzo distribuye almuerzos nutritivos gratuitos a cualquier persona hasta los 18 años en comunidades prioritarias en el Condado de Cook, hasta el 1º de septiembre, de lunes a viernes.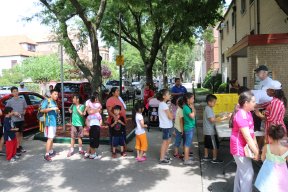 Lugares:
Biblioteca Richard M. Daley
733 N. Kedzie Ave.
Humboldt Park
1:10 p.m. a 1:30 p.m.
Biblioteca West Belmont
3104 N. Narragansett Ave.
Belmont-Cragin
2:45 p.m. a 3:05 p.m.
Smith Park
Ashland Ave., y W 14th Pl
Chicago Heights
1:45 p.m. a 2:05 p.m.
Bethel Pentecostal
2726 Broadway St.
Blue Island
2:45 p.m. a 3:05 p.m.
Para una lista completa de lugares visite www.chicagofoodbank.org.