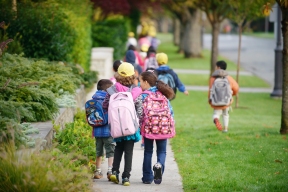 El Departamento de Transporte de Illinois y la Junta de Educación del Estado de Illinois se unen para exhortar a todas las escuelas del estado a participar en el evento anual 'International Walk to School Day', el miércoles, 7 de octubre.
El evento mundial es una oportunidad para asegurarnos que los niños pueden caminar sin peligro a la escuela, mientras se les exhorta a mejorar su salud y considerar el ambiente en su rutina diaria.
Este evento se originó en Chicago en 1997 como 'National Walk our Children to School Day', en un esfuerzo por crear conciencia comunitaria sobre el que los niños caminen a la escuela sin peligro. Se exhorta a las escuelas que planean participar en el evento a que se tomen un tiempo para instruir con antelación a los estudiantes sobre la seguridad de los peatones. Visite www.wallbiketoschool.org para saber como inscribirse. Cliquée para una lista de las escuelas de Illinois participantes. Escuelas de todo el país tuvieron más de 4,700 eventos de 'International Walk to School Day en el 2014.