By: Ashmar Mandou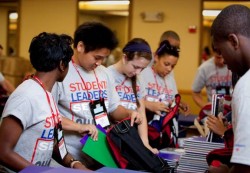 Honored for his passion for community outreach, Jaureese Gaines, 17, a North Lawndale resident, was one of 230 high school students nationwide selected for the Bank of America's Student Leaders Program. "I was really excited when I got the news that I was accepted into the program," said Gaines, who heard about the opportunity through his counselor at Collins Academy. "She actually pushed for me to do it. It was the first time I ever applied to something that big and I'm so grateful for the opportunity given to me."
Acknowledging teens' critical role as the next generation of leaders, Bank of America provided 230 high school juniors and seniors – including five from Chicago – with a paid, eight-week summer internship at local nonprofit organizations. These students gained hands-on experience and learned invaluable leadership skills while providing support to nonprofits in critical need of resources. "Bank of America is committed to creating positive change in the Chicago communities where we live and work through our philanthropic initiatives. The Bank of America Student Leader program supports our long-standing belief that investing in leadership – from students to nonprofit leaders – is critical to revitalizing the economic and social health of local communities," said Diane Wagner, senior vice president of Bank of America.
In addition to the internships, Student Leaders participated in a week-long Bank of America Student Leadership Summit held in Washington, D.C. Now in its fourth year, the goal of the summit was to inspire students to remain committed to service and to equip them with tools and resources to continue their positive contributions in their communities. This year alone, the company is investing more than $1 million in the leadership program and has committed more than $8 million since the program's inception in 2004. "I enjoyed every minute of it," said Gaines, who currently interns at the YMCA of Metropolitan Chicago. "I learned so much just through meeting different students across the country, but also listening to leaders who truly helped build my leadership skills and confidence."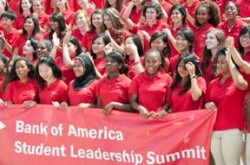 Through a series of interactive workshops, students across the country attended sessions on financial education, environmental sustainability, nonprofit leadership and Capitol Hill briefings, and gained an understanding of how service creates positive 'change in communities and how corporate, nonprofit and government collaboration is instrumental in community revitalization.' Entering his last year of high school, Gaines is looking forward to his college life. "Now that I found new skill sets, I know I can succeed in anything I do."
For more information about Bank of America Corporate Philanthropy, please visit www.bankofamerica.com/foundation.