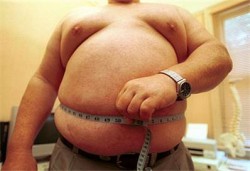 Illinois was named the 23rd most obese state in the country; however, it ranked as the 9th most obese state for Latinos, according to the eighth annual F as in Fat: How Obesity Threatens America's Future 2011, a report from the Trust for America's Health (TFAH) and the Robert Wood Johnson Foundation (RWJF). Illinois's adult obesity rate is 27.7 percent, and among Latinos the adult obesity rate is 33 percent. In the past year, adult obesity rates increased in 16 states including Illinois and did not decline in any state. Twelve states now have obesity rates above 30 percent. Four years ago, only one state was above 30 percent. Obesity rates exceed 25 percent in more than two-thirds of states (38 states). Racial and ethnic minority adults, and those with less education or who make less money, continue to have the highest overall obesity rates:
National Latino obesity rates were above 35 percent in four states (Mississippi, North Dakota, South Carolina, and Texas) and at 30 percent and above in 23 states. Rates of adult obesity for Latinos were 33 percent in Illinois.
Meanwhile, rates of adult obesity for Whites topped 30 percent in just four states (Kentucky, Mississippi, Tennessee, and West Virginia) and no state had a rate higher than 32.1 percent. The rates of adult obesity for Whites were 25.5 percent in Illinois.
More than 33 percent of adults who earn less than $15,000 per year were obese compared with 24.6 percent of adults who earn $50,000 or more per year.
For the first time, the report examined how the obesity epidemic has grown over the past two decades:
Fifteen years ago, Illinois had an obesity rate of 15.3 percent and was ranked 19th most obese state in the nation. The obesity rate in Illinois increased more than 80 percent over the last 15 years.
Over the past 15 years, seven states have doubled their rate of obesity. Another 10 states nearly doubled their obesity rate, with increases of at least 90 percent, and 22 more states saw obesity rates increase by at least 80 percent.
Ten years ago, no state had an obesity rate above 24 percent, and now 43 states have higher obesity rates than the state that was the highest in 2000.
The full report with state rankings in all categories is available on TFAH's website at www.healthyamericans.org and RWJF's website at www.rwjf.org. The report was supported by a grant from RWJF.