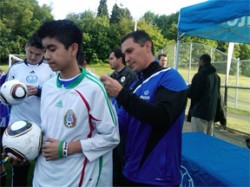 As the goalkeeper with the most professional appearances in Mexican league history with 633 games, Adolfo Rios knows what works to keep himself safe on the playing field. It all starts with having good equipment, which is why Rios teamed up with FMF sponsor Allstate to surprise inner city youth soccer players with new gear as a special guest coach before matches on the 2011 FMF U.S. Tour. With the youth soccer season in full swing, Rios has a few tips for parents to share with their kids to ensure that all future soccer stars stay safe and protected while playing the sport this summer.
Don't kick around any balls or start playing when you get to the field without a good warm-up. Give the warm-up the importance it deserves even if you are the first to arrive or the last to leave. Without it, you can cause a serious injury.
It's important to eat at least four hours before every game. Carbohydrates like pastas are best because they are easy to digest and will give you plenty of energy for the game.
If you suffer a head injury while playing, do not go back onto the field. Head injuries are very serious and you should see a doctor as soon as possible to avoid any problems.
After a muscle injury do not try to return to the rigorous demands of the game. Take it easy so that your muscles gain strength with each passing day.
Finally, remember to be respectful to your teammates, coaches and opponents on and off the field.