Start with breakfast. Studies have shown that eating breakfast can help improve concentration, reduce trips to the school nurse, improve test scores, and aid with weight management.
Get organized. Keep pantry, fridge, and freezer stocked with foods from all food groups, and try for three out of five food groups per meal, and at least two food groups for snacks to help build in balance and interest.
Snack attack. Planned snacks are a great way to help meet nutrient needs for proper growth and development along with helping kids make better choices when they are hungry after school.
Getting the family involved with making planned choices can make a big difference in mealtimes that build health right into every day eating.
Chicken Salad Wrap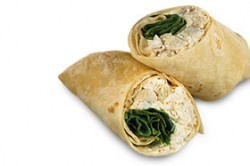 Preparation:
Prep Time: 15 minutes
Cook Time: n/a
Amount: 4 servings

Ingredients:
2 cups shredded Culinary Circle roasted chicken
1 cup shredded Monterrey jack cheese
1 pear, peeled and chopped
1/2 cup slivered almonds
1/2 cup Culinary Circle Raspberry Chipotle dipping & cooking sauce
4 large spinach tortillas
– field greens

Directions:
1. In medium bowl, combine chicken, cheese, pear, almonds and chipotle sauce; mix well.
2. Place 1/4 of chicken salad at one end of tortilla. Place desired amount of field greens on top.
3. Roll up burrito style. Cut in half.

Watch for up to date information every week. If there is a specific health or nutrition related issue you would like more information on, please e-mail us at nutricion@lawndalenews.com or write to:

Lawndale News
5533 W. 25th St.
Cicero, IL 60804
ATTN. Fresh Take on Health and Nutrition Column from Jewel-Osco

Until next time!

With summer winding down, it's time to start getting ready for the kids to head back to the classroom. This year, be sure better food choices are part of the routine, too!