Here are some creative (and quick) solutions to start the school year off right! Challenge everyone in the house to come up with even more fun ideas for speedy and delicious meals.
Banana Wheat Muffins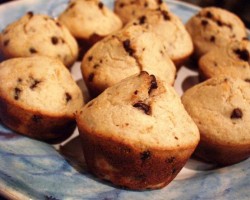 Preparation:
Prep Time: 20 minutes
Cook Time: 20-25 minutes
Amount: 12 servings

Ingredients:
1 1/3 cups frosted bite size shredded wheat
1 cup all-purpose flour
1 teaspoon baking soda
1/2 teaspoon salt
1/2 cup butter , softened
1/2 cup granulated sugar
1/2 cup brown sugar
2 large eggs
1 teaspoon vanilla extract
1 cup mashed ripe bananas
1/2 cup chopped walnuts (optional)

Directions:
1. In a medium mixing bowl, combine shredded wheat, flour, soda and salt; set aside.
2. In a large mixing bowl, cream butter and sugars together with an electric mixer. Add eggs, vanilla and bananas; continue mixing until well combined. Slowly add in flour mixture. Add walnuts, if desired.
3. Divide into a muffin pan that has been sprayed with no-stick cooking spray . Bake in a preheated 350°F oven 20-25 minutes or until knife inserted in the center comes out clean.
4. Remove muffins from pan and place on a cooling rack.

Watch for up to date information every week. If there is a specific health or nutrition related issue you would like more information on, please e-mail us at nutricion@lawndalenews.com or write to:

Lawndale News
5533 W. 25th St.
Cicero, IL 60804
ATTN. Fresh Take on Health and Nutrition Column from Jewel-Osco

Until next time!

Mom is right! Breakfast is one of the most important meals, setting the tone for the rest of the day on school performance, behavior, and weight management – even attendance may improve by starting the day off right! Make breakfast part of the morning every day by keeping it tasty, balanced, and simple. Help the whole family by including a fruit or vegetable to start off on the right foot and eat a bit healthier no matter what the rest of the day brings.