By: Carlos Acevedo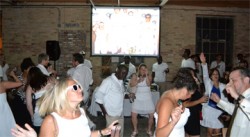 On August 5th, the Chicago Fire Foundation held its 1st White Party at the MCA Warehouse in West Town. The night's gathering welcomed over 500 guests and raised over $23,000. The venue was an empty warehouse, which is now a big open space with large windows and exposed brick. The decorations included candle lights and tables with fancy flower center pieces which definitely enhanced the ambience. The environment was cool, casual and comfortable enough for women to sport classy dresses, skirts and the men anything from shorts to suits.
The guest included men, women, younger…wiser and even a 'luchador' showed up. It was definitely interesting to see the guests brave it out as they very cautiously enjoyed the variety of food selections and pastries. It is safe to say that everybody had a similar goal in mind, to not spill or smear any sauce, drink or fudge on their crisp white clothes.
After indulging on the diet-breaking, next day regretting you ate it selections and savoring the smooth cold beverages, the crowd slowly started to fill the dance floor. From salsa to hip hop, this crowd danced the night away. Chicago Fire Foundation Executive Director, Jessica Yavitz said the party came about because they want to reach out to other demographics to attract people who have an affinity towards charities, giving back to the community and to let them see the side of the Chicago Fire.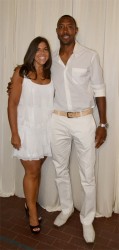 "Our goal is to enrich the lives of the Chicagoland community particularly the youth, in areas such as health, wellness, education and the environment. We are proud because to date, we have donated over $1.5 million back to the community," said Yavitz. The Chicago Fire Foundation has donated money to charities such as: Children's Memorial Hospital; Leukemia and Lymphoma Foundation; Boys & Girls Club; YMCA and recently donated $100,000 to Urban Initiatives.
"Everyone is having a great time because they know they are here supporting a great cause which I think always makes people feel good. You can always go to a bar and enjoy yourself with friends, but to know that the money here is going back to the community and you're helping a cause while having fun, I think it touches people differently," said Yavitz. The Chicago Fire Foundation plans to make the White Party and annual event to help raise funds. I'm sure most attendees would agree that if eating, drinking, ball kicking, mingling and dancing is what it takes to raise funds that will help communities and charities in need… then let the party begin. To view pictures, visit www.lawndalenews.com.