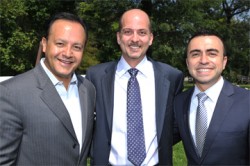 Healthy Places announced the ten organizations it has chosen to implement community-level strategies to prevent obesity and help make healthier living easier in Chicago. The program's premise is to advance the work of Healthy Chicago, Chicago's first comprehensive public health agenda, which was released on Tuesday, Aug. 16 by Mayor Rahm Emanuel. During the release of the health agenda, Mayor Emanuel called on Chicagoans to join the Chicago Department of Public Health in implementing a vision for a healthier and safer Chicago.
Healthy Places, a joint project of the Consortium to Lower Obesity in Chicago Children (CLOCC) and the Chicago Department of Public Health (CDPH), received $5.8 million from the Centers for Disease Control and Prevention to focus on policy, systems, and environmental change to support health eating and physical activity throughout the City. Ten organizations were selected through a competitive proposal process for community work in neighborhoods of high poverty and health disparity. Three organizations will focus on healthy corner store efforts, three on breastfeeding education and support, and four on healthy school initiatives. Funding comes from the Affordable Care Act's Prevention and Public Health Fund, and $800,000 was set aside for community interventions. The awardees and communities where their work will take place are by intervention area are:
Corner Stores: Southeast Chicago Development Commission (South Chicago); Inner-City Muslim Action Network (Englewood); West Humboldt Park Development Council (Humboldt Park)

Breastfeeding: Southwest Organizing Project (Chicago Lawn, Englewood); Access Community Health Network (Rogers Park); Heartland Human Care Services (West Englewood)
Schools: Asian Health Coalition (Armour Square); SGA Youth and Family Services (Roseland); Urban Initiatives (New City); Brighton Park Neighborhood Council (Brighton Park)
For more information about Chicago's obesity prevention efforts through the Healthy Places project, visit www.healthyplaceschicago.org and follow the redirect to CLOCC's website.