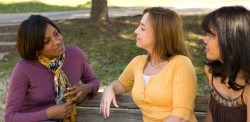 As Americans manage the uncertainties of today's challenging economy and jobs market, it appears help could be readily available from a nearby source: neighbors. State Farm® and consumer research firm Harris Interactive surveyed more than 17,000 people about the state of American neighbors and found that the vast majority – 83 percent – are willing to help a neighbor having financial problems. More specifically, of those surveyed:
45 percent indicated they would help a neighbor look for a job
4 percent would cook meals for them
32 percent would assist with babysitting to help save on childcare costs
15 percent would lend a neighbor money
10 percent would let a neighbor live with them for a short while
The willingness for neighbors to help neighbors during times of financial stress remains true over a wide range of factors. In urban settings, 82 percent would help. In the suburbs and in rural areas, 84 percent indicated they would assist. Other key findings from the State of American Neighbors survey include:
We still watch out for each other. 46 percent of Americans watch their neighbors' home several times a year.
Neighbors matter. 50 percent of Americans say that neighbors affect their happiness by at least a fair amount.
Names still count. Almost 50 percent of all respondents indicated they know at least a fair amount of their neighbors by name, but there are big differences between generations. Among Americans 66 and older, 65 percent know at last a fair amount of their neighbors, compared with 36 percent of those ages 18-35.
About the survey
This survey was conducted online within the United States by Harris Interactive on behalf of State Farm March 14 – April 12, 2011, among 17,218 adults age 18 and over. Results were weighted to reflect the U.S. population as per the census. This is not a probability sample and no sampling error can be calculated. To explore more survey findings and share your thoughts, visit StateFarm.com/neighbors.