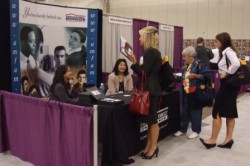 Do you remember your dreams and goals from 25 years ago? Chances are entrepreneurship wasn't on your to-do list, but it was for Hedy M. Ratner and S. Carol Dougal who launched the Women's Business Development Center (WBDC) in 1986 as the nation's first nonprofit assistance center to help women start and expand businesses. The ultimate goal – and one they achieved? Help thousands of women become economically self-sufficient through business ownership.
That same year, they launched the Entrepreneurial Woman's Conference, a forum that has become the Midwest's largest and most effective business opportunities fair and women's business event. With great anticipation, the WBDC will present its 25th Anniversary Entrepreneurial Woman's Conference on Wednesday, September 14, from 8 a.m. to 8 p.m., at McCormick Place-West, 2301 S. Indiana Ave., in Chicago. Join over 2,000 participants as they network and learn how to take their business to the next level. Highlights include:
Women's Business & Buyers Mart offering face time with more than 200 corporate and government representatives who are committed to purchasing products and services from women-owned businesses.
Contract Connections pre-arranged one-on-one meetings between certified Women's Business Enterprises (WBEs) and corporate and government purchasing decision-makers.
Women's Forum Breakfast, moderated by Chicago Sun-Times syndicated financial columnist, finance expert and best-selling author Terry Savage, will feature several prominent entrepreneurs sharing the trials and tribulations of running a successful business. This year's Women's Forum panelists are: Leylani Cardoso, of Bolzano Handbags; Maxine Clark, of Build-A-Bear Workshop; Cathy Hughes, of Radio One; and Lynn Tilton, of Patriarch Partners.
For more information or to register online, visit www.WBDC.org or call (312) 853-3477, ext. 240.