By: Ashmar Mandou
In the aftermath of Tuesday's intense debate between Chicago Public Schools Chief Jean-Claude Brizard and Chicago Teachers Union President Karen Lewis regarding longer school days and improvement in neighboring schools, both Brizard and Lewis managed to come to a consensus on one particular issue, parent involvement.
With that in mind, several organizations, like Better Government Association (BGA) are conducting workshops and seminars throughout the school year to reach parents in underserved communities. "Our organization provides an opportunity for many parents who don't necessarily have access to information," said Barbara Macholz, Community Outreach coordinator for Better Government Association. "We teach parents about various issues from probationary schools, to budget inquiries, to figuring out how to become a part of the local school council. The key is to give basic information so that parents can take a more active role in their child's education."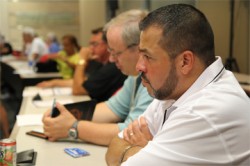 On Tuesday, Sept. 20 the BGA will host its latest workshop at Douglass Branch Public Library, 3353 W. 13th St, which will include training lessons on local school councils, basics of school budgets, and hear stories from active parents and citizens. "There are so many confusing points for parents and we want to eliminate all that so that parents can feel more comfortable in voicing their concerns," said Macholz. Each session targets a specific need of a particular community. Last session, BGA hosted a training session in the Pilsen community, which geared towards understanding the process of charter schools. "We really try to go into different communities that have conflicting issues. In the Albany and Pilsen communities we talked more about charter schools and in the Englewood community we focused on probationary schools," said Macholz. "So we really have an in-depth conversation about what parents need to know about their specific issue or issues." If you are interested in participating in the next session, visit www.bettergov.org or call Barbara Macholz at 312-821-9025. Other organizations that promote parent advocacy are Raise Your Hand Coalition, www.ilraiseyourhand.org; Parents United for Responsible Education, www.parentsunited.org; and Designs for Change, www.dfcworld.com.