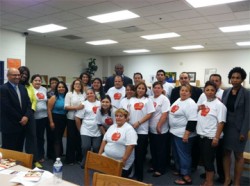 En una junta el miércoles, 31 de agosto, en Orozco Community Academy, más de 20 padres de la Academia de Padres en Liderazgo, (APL) – en su mayoría padres y varios líderes comunitarios, se reunieron para encontrarse con el CEO de las Escuelas Públicas de Chicago, Jean-Claude Brizard, para hacer planes sobre fondos para la educación, en escuelas del sector sudoeste de Chicago y pedir apoyo en otros esfuerzos educativos para mejorar la calidad de educación de los niños en CPS. Miembros de APL representaban escuelas de Brighton Park, Little Village, Back of the Yards y Pilsen.
También estuvo presente Steve Srike, CEO de Pilsen Little Village Network y Oficial en Jefe de Participación Comunitaria y Familiar, Jamkio Rose. Durante la junta, Ruth Peña, madre y exmaestra, habló sobre la necesidad de programas de educación tamprana en las escuelas del sector sudoeste. "Como madre y ex maestra de Head Start, puedo ver el impacto positivo, social y emocional de un programa de un día completo", dijo Peña.
Brizard estuvo de acuerdo en trabajar y apoyar a los padres de APL para beneficiarse de los 6,000 puestos de educación temprana de un día completo, incluídos en el presupuesto preliminar para el año fiscal del 2012. "Estamos tratando de ser equitativos… programamos ciudades en el área que más lo necesitan", dijo Brizard. Además, los padres pidieron apoyo en servicio de tutoría para después de la escuela y para mejorar el Concilio de Asesoría de Participación de Padres (PAIC) en el que la participación de los padres es "baja", de acuerdo a José Fernández, presidente y CEO de la organización de padres, Concilio Escolar Local-Miembro de la Alianza de Chicago (LSC MAC) y miembro de APL. Hernández propuso que PAIC "elija", a los padres del concilio, en lugar de que sean "nombrados" por CPS.
Rose, responsible de la participación de padres del CEL y grupo comunitario, estará trabajando con los padres de APL en estos esfuerzos. Rose fue nombrada por Brizard la semana pasada. "Estoy aquí para escuchar y trabajar con ustedes", dijo. "El Sr. Brizard tiene un enfoque muy completo, que incluye a todas las personas interesadas", dijo Hernández. "Ha hecho cambios en la oficina central y continuará haciendo cambios que incluyan una mayor participación y responsabilidad de los padres. Las comunidades hispanas desean beneficiarse de esos 6,000 lugares para educación temprana. Queremos trabajar mano a mano con CPS en la búsquda y ejecución de soluciones a los muchos retos que enfrentamos". APL es una iniciativa de educación del Concilio Comunitario de Vecinos de Pilsen y Gamaliel de Metro Chciago. Para más información, visite www.pilsenneighbors.org.