Make a list. Take a few minutes to write a list of items that will create a full meal out of what is already on hand. Look in your refrigerator, pantry, and freezer to see what you have, then make your list of items to pair with it. This saves time and money and makes meal time easier because you know you shopped for what you need to complete the meal.
Eat more fruits and vegetables. Fresh, canned, dried, frozen, 100% juice all of these forms can count towards the fruits and vegetables needed every day. Be sure to read labels for best bets in regards to calories, nutrients, fiber, and sodium on canned, frozen, and dried varieties.
3-Bean Chili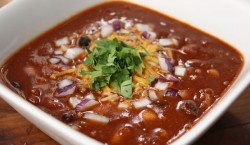 Preparation:
Prep Time: 15 minutes
Cook Time: 30 minutes
Amount: 8-10 servings

Ingredients:
2 tablespoons wild harvest organic extra virgin olive oil
1 medium yellow onion, chopped
3 ribs wild harvest organic celery hearts , sliced
1 green bell pepper, chopped
1 jalapeño pepper, seeded and chopped
2 tablespoons chopped garlic
1 teaspoon wild harvest natural sea salt
1/2 teaspoon wild harvest organic black pepper
2 (15 ounce) cans wild harvest organic tomato sauce
2 (14.5 ounce) cans wild harvest organic diced tomatoes
2 tablespoons chili powder
2 tablespoons wild harvest organic ground cumin
2 teaspoons wild harvest organic dried oregano leaves
1/2-1 teaspoon wild harvest organic cayenne pepper
1 (15 ounce) can wild harvest organic pinto beans , rinsed and drained
1 (15 ounce) can wild harvest organic black beans , rinsed and drained
1 (15 ounce) can wild harvest organic garbanzo beans , rinsed and drained

Directions:
1. In large saucepan or Dutch oven, heat oil over medium heat. Add onions, celery, peppers, jalapeño, garlic, salt and pepper. Sauté until onions are translucent (about 5-7 minutes).
2. Add tomato sauce, tomatoes, chili powder, cumin, oregano and cayenne pepper. Bring to a simmer. Cover and simmer 15 minutes or until celery and peppers are tender.
3. Add in beans and simmer until heated through (about 5 minutes).

Watch for up to date information every week. If there is a specific health or nutrition related issue you would like more information on, please e-mail us at nutricion@lawndalenews.com or write to:

Lawndale News
5533 W. 25th St.
Cicero, IL 60804
ATTN. Fresh Take on Health and Nutrition Column from Jewel-Osco

Until next time!

September is cholesterol education month! Heart disease remains the number one cause of death in America for both men and women, so it makes sense for the whole family to enjoy heart smart menus. What does a "heart smart" menu mean? Delicious choices from every food group, colorful fruits and veggies, whole grains with fiber, low fat or fat free dairy, liquid oils instead of solid fats, and lean protein. Start shopping heart smart today!