By: Caitlin Gath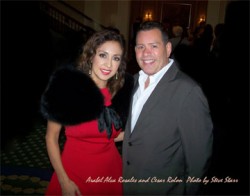 It needed to be curvy. It needed to be colorful. It needed to be sexy. But more than anything it needed to elevate the perception of the Latino community. It needed to send a message to the city of Chicago and to the country that this community has a lot to contribute, and is going to look good doing it.
Already in its fifth year, Latino Fashion Week first began when Arabel Rosales and Cesar Rolon decided there wasn't enough representation for Latino fashion designers in Chicago. "It went from the concept of helping fashion designers get their names out at a local level to growing on an international level that not only includes fashion designers, but photographers, hair stylists and make-up artists," Rosales said. "It's been an evolution more than anything,"
The event has grown so much in fact, that not only are the Architects of Illinois helping to design the runway show and stage, Walgreens and American Airlines have signed on as sponsors, and designers as far away as Los Angeles and New York are clamoring to have LFW in their own cities.
"We're fortunate that it's been embraced here in Chicago, but it doesn't exist anywhere else. It really is about repositioning our platform," Rolon said. One Hollywood-based designer now involved in LFW grew up dreaming of becoming a fashion designer. But no one would give her the opportunity because she was only thought of as a seamstress, according to Rolon.
"It's her ambition to have us do in L.A. what we've done here," he said. "We're looking to discover that next Oscar or Carolina and get them to be featured in these major retailers." The drive behind LFW, however, is about having a purely positive impact on the Latino community.
"As Latinos this is really our time … to share all of the wonderful things in our community. When you look at the demographics, we clearly understand the numbers and the impact and the growth of the Latino community," Rosales said. "If you can't marry us, then you should be going into business with us."
Not only does LFW bring a lot of attention to Chicago, but it also brings with it business development and tourist attractions, and helps local designers resonate with a demographic that seems to know no boundaries here. "We believe that beauty comes from within and we enjoy sending that message out to our community," Rosales said. "It comes from being healthy and having positive self-esteem, and then you add on that fashion component and it creates an unstoppable individual."
And if it's one thing any good Latino knows, it's how to appreciate beauty, according to Rolon and Rosales. "We're raised on being beautiful from a very early age," Rosales said. "You get your ears pierced and you learn to dress in a certain way. I think it's something we love sharing." Even more important to Rosales and Rolon, though, is seeing a young person's self-esteem grow.
"We start with our youth because we've seen them blossom. I love to see these young kids get involved with us and with LFW," Rosales said. "Some of them love the fashion and some of them develop their work ethic. Their involvement and growth is amazing, especially the development of their self-esteem."
While Rolon and Rosales are certainly the masterminds behind this growing event, they're both quick to acknowledge that none of it could have happened without the support of so many people. "The support has been wonderful. We feel a great deal of love for our team … because I think a lot of people don't realize the hard work it takes to put this together," Rosales said. "Something of this undertaking takes a lot of grunt work. The truth is that there are many days that you don't even have time to take lunch."
"We don't have the luxury of what these other fashion weeks have," Rolon said. "Thank God for our volunteers. People think that LFW comes fully staffed with all these other employees and it just doesn't." Although LFW is reaping its rewards now, five years ago that wasn't the case. Five years ago LFW could barely convince any sponsors to come on board.
"We approached companies that were recognized in the Hispanic community and we still couldn't get anyone," Rolon said. "It really came to fruition on the closing day when we were set up for 200 people and we ended up having so many people waiting that we had to turn some away." Five years from now Rolon and Rosales said they still have big plans, and respect for one another.
"I rely on Arabel to keep me level-headed and grounded. We have big goals, of course, and we consider ourselves pioneers," Rolon said. "We'd love to continue to extend LFW and to have our own program, our own style of Project Runway. We're very lucky."