Nuts provide a crunchy source of heart smart fat and protein in place of high fat croutons, and ¼ cup of dried fruits does count towards fruit servings for the day. Read Nutrition Facts panels for the total nutrient profile of every choice. Read ingredient lists to help avoid added sugars. Other quick fixes? Save fat and calories by using light dressings, cream cheese, and low fat dairy products in recipes. It's amazing how fast this adds up to savings without compromising on taste. Here are a couple recipes to boost fruits and veggies as well as integrate nuts in a sensible portion size. Get creative with your favorite fall flavors and make them part of the menu this week.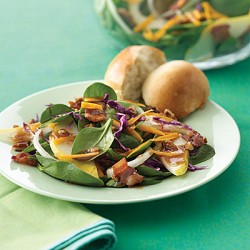 Autumn Apple Salad II
Submitted by: Daisy
www.allrecipes.com
Servings: 4
Ingredients:
4 tart green apples, cored and chopped
1/4 cup blanched slivered almonds, toasted
1/4 cup dried cranberries
1/4 cup chopped dried cherries
1 (8 ounce) container vanilla yogurt
Directions:
1. In a medium bowl, stir together the apples, almonds, cranberries, cherries and yogurt until evenly coated.
Autumn Salad
Submitted by: Allana
www.allrecipes.com

Servings: 6

Ingredients:
1 1/2 cups shredded carrots
1/3 cup chopped pecans
1/3 cup raisins
1/3 cup French dressing
1 (15 ounce) can pear halves
1/2 cup chopped pitted dates
1 (3 ounce) package cream cheese, softened
1 head green leaf lettuce, rinsed

Directions:
1. In a medium bowl, combine carrots, pecans, raisins and enough French dressing to moisten. Mix lightly and chill.

2. Drain pears, reserving 2 tablespoons syrup. In a small bowl, combine reserved syrup, dates and softened cream cheese and mix until well blended.

3. Fill each pear half with cream cheese mixture. Spoon the carrot mixture onto 6 salad plates covered with lettuce leaves and place one pear half on each plate.

Watch for up to date information every week. If there is a specific health or nutrition related issue you would like more information on, please e-mail us at nutricion@lawndalenews.com or write to:

Lawndale News
5533 W. 25th St .
Cicero , IL 60804
ATTN. Fresh Take on Health and Nutrition Column from Jewel-Osco

Until next time!

Fruits and vegetables are abundant year round, and it can be fun to include seasonal favorites to liven up the menu as the weather changes. Fall is excellent for apples, pears, nuts, and dried fruits. Most of us don't get enough fruits and vegetables daily, so combining them into one delicious dish is an easy way to enjoy the servings needed. This also adds eye appeal, texture, and interest to the menu.