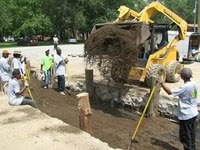 The City of Chicago celebrated the accomplishments of its Greencorps Chicago-Calumet program participants during a graduation ceremony at the Chicago Center for Green Technology (CCGT). The job-training program assists individuals with barriers to employment by giving them classroom and on-the-job experience in ecological restoration including removing invasive species, prescribed burns, tree care and environmental health and safety. Trainees are also supported with social services and job readiness skills that help them to secure full-time employment.
"Through the Greencorps Chicago-Calumet program, the City of Chicago provides opportunities to help men and women start new lives and learn important skills," said Acting Environment Commissioner Kimberly Worthington.
The work of the trainees helps to restore vital wetlands, woodlands and other natural areas in the Calumet region on the southeast side of the city. The Calumet wetlands have suffered years of abuse and neglect, but are still frequented by wildlife and migratory birds, including some that are threatened or endangered. Greencorps Chicago-Calumet performs on-the-ground work to improve the habitat in these wetlands for the species that rely on them and the people who enjoy them.