Precooked meat and poultry are a great addition to casseroles, soups, sandwiches, and salads. Chances are, there is some turkey left from the holiday last week. Try some new recipes that also incorporate fruits and vegetables, since many adults and kids are lacking in these two important food groups.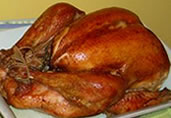 Tropical Turkey Salad
Submitted by: Dakota Kelly
www.allrecipes.com

Prep Time: 20 Minutes
Ready In: 1 Hour 20 Minutes
Servings: 12

Ingredients:
1/3 cup low-fat sour cream
2 tablespoons mango chutney
1 tablespoon fresh lemon juice
1 tablespoon honey
1/4 teaspoon curry powder
4 cups chopped cooked turkey
1 cup diced red bell pepper
1 cup diced celery
1 cup pineapple chunks
1 cup chopped orange segments
1/2 cup chopped green onion


Directions:
1. For the dressing, blend sour cream, chutney, lemon juice, honey, and curry powder in a small bowl. Mix well, and refrigerate until ready to use.

2.In a large bowl, combine turkey, red pepper, celery, pineapple, orange segments, and green onion. Add dressing, and toss well to coat. Refrigerate for 1 hour before serving.

Watch for up to date information every week. If there is a specific health or nutrition related issue you would like more information on, please e-mail us at nutricion@lawndalenews.com or write to:

Lawndale News
5533 W. 25th St.
Cicero , IL 60804
ATTN. Fresh Take on Health and Nutrition Column from Jewel-Osco

Until next time!

One nice way of eating on a budget year round is to cook ahead when time allows. Purchasing items in bulk on sale, then using the oven once to cook for multiple meals means saving money at the store and at home, too. Plus, one meal is ready and at the same time, some of the preparation for following meals is done, too. Leftovers can be a great way to save time and money during busy holiday weeknights. Turkey , a favorite this time of year, is a versatile protein option that can easily work into recipes in place of chicken or can be enjoyed in a new recipe on its own.