Arroz con Pollo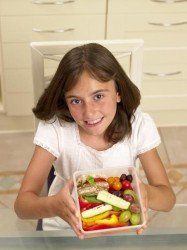 Preparation:
Prep Time: 15 minutes
Cook Time: 30 minutes
Amount: 8 servings

Ingredients:
1 tablespoon vegetable oil
1 pound boneless, skinless chicken breasts, cut into strips
1 cup chopped Farm Stand® onions
1 green bell pepper, chopped
1 red bell pepper, chopped
1 teaspoon chopped garlic
1 teaspoon chili powder
1/2 teaspoon ground cumin
1/2 teaspoon salt
1/2 teaspoon black pepper
1/4 teaspoon turmeric
1 cup long grain white rice, uncooked
1 medium tomato, seeded and chopped
2 cups chicken broth

Directions:
1. In large skillet, heat oil over medium heat. Add chicken, onions, peppers, garlic, chili powder, cumin, salt, pepper and turmeric. Sauté until chicken is browned (about 8-10 minutes).
2. Add rice and tomatoes; sauté 2 minutes. Add in broth; bring to a boil.
3. Reduce heat and simmer, covered, 20 minutes or until liquid is absorbed and rice is tender.

Watch for up to date information every week. If there is a specific health or nutrition related issue you would like more information on, please e-mail us at nutricion@lawndalenews.com or write to:

Lawndale News
5533 W. 25th St.
Cicero, IL 60804
ATTN. Fresh Take on Health and Nutrition Column from Jewel-Osco

Now is the perfect time to get the whole family eating a fruit and/or vegetable at every meal or snack to help provide important nutrition while keeping the overall meal colorful and delicious. Because fruits and vegetables are typically good choices in terms of calories and fat, it's a great way to eat better with weight management in mind, too. Start with seasonal favorites and ask kids to help pick a new favorite at the grocery store – if they are involved in the process, it's an easier time at the table to get them to try new things. Try this favorite filled with tomato and bell pepper tonight!