Butternut squash is an economical source of nutrition that can serve double duty as decoration as well, so stock up, and enjoy their beauty and their taste.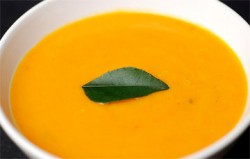 Butternut Squash Soup
www.allrecipes.com
Submitted by: Mary
Servings: 6
Ingredients:
6 tablespoons chopped onion
4 tablespoons margarine
6 cups peeled and cubed butternut squash
3 cups water
4 cubes chicken bouillon
1/2 teaspoon dried marjoram
1/4 teaspoon ground black pepper
1/8 teaspoon ground cayenne pepper
2 (8 ounce) packages cream cheese

Directions:
In a large saucepan, sauté onions in margarine until tender. Add squash, water, bouillon, marjoram, black pepper and cayenne pepper. Bring to boil; cook 20 minutes, or until squash is tender.

Puree squash and cream cheese in a blender or food processor in batches until smooth. Return to saucepan, and heat through. Do not allow to boil.

Kim's nutrition note: Use Neufchatel (1/3 less fat) cream cheese to save on fat and calories, and try sodium free bouillon to keep sodium in check, too.

Watch for up to date information every week. If there is a specific health or nutrition related issue you would like more information on, please e-mail us at nutricion@lawndalenews.com or write to:

Lawndale News
5533 W. 25th St.
Cicero , IL 60804

ATTN. Fresh Take on Health and Nutrition Column from Jewel-Osco

Until next time!

When the weather gets colder, winter squash is a deliciously seasonal way to get some of the health promoting nutrients needed each day. Being orange in color indicates that butternut squash is loaded with nutrition! In fact, the Dietary Guidelines for Americans indicates that it is important to eat green and orange produce each week. Orange (and green) produce provides vitamin A which is important for vision and heart health. Additionally, Butternut squash provides vitamin C, as well as a bit of iron and calcium – some of the things Americans don't always get enough of. Eat a balanced diet, with all food groups and remember to have fun with changing out fruit and veggie selections with the seasons. A bonus with winter squash is that these tasty treats typically have more nutrients (like beta carotene) per serving than summer squash!