By: David Geeslin
Admissions Coordinator
Chicago Hope Academy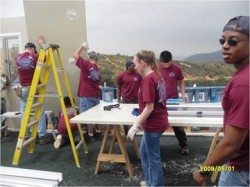 The story of an underdog is one to which people can relate. How often have we felt daunted by the obstacles that lay before us, or assumed there was no chance of success due to the disparity of size between us and the foe? The biblical story of David and Goliath is used to capture the experience of the "little guy" proving everyone wrong by overcoming a giant. It is with great pride that Chicago Hope Academy picks up the sling and stones to do battle with Chicago's larger schools in the athletic arena. Chicago Hope is a school with less than two hundred students and regularly faces off against schools that have are to ten times that size.
What we lack in quantity we make up with quality. Hope fields very competitive teams, supported by great coaches and superb facilities. Our teams have won multiple regional championships, and as of the second week of January, our women's basketball team is 11-6 (pictured) and our men's team is 16-2 and ranked in the top 25 in the state after defeating Marshall (over 1,200 students and recent state champions). While we are proud of our athletic accomplishments, we are even more proud of the young men and women that graduate from Hope because of the hard work they have completed in the classroom.
We are a small school with big athletic and academic expectations. Our average class size is 12 students. This is done very intentionally to enable greater individualized attention between student and teacher. We also care deeply about who our students are becoming as individuals. As a non-denominational Christian school, we focus on students being of sound body, mind, and heart. Students do not have to be of a Christian religious background to come to Hope, but everyone on staff is a Christian and strives to be a mentor for our students. Every year our senior class travels to Mexico to build homes for families in need (pictured).
Our implementation of a holistic education includes pushing our students academically. We are a selective College Prep school that is preparing our students to succeed in college and beyond. Apart from selective enrollment schools, our average ACT score is higher than all Chicago public and charter schools. 100 percent of our graduates are accepted in to college or college prep schools. We offer significant scholarship support for the education of our alumni who attend schools all over the country such as Columbia University, Carnegie Mellon, and the US Naval Academy. We welcome families to our Open Houses on January 28th and March 10th to meet faculty and receive an interactive tour of the school. All applicants can apply online at our website or contact the school to receive an application.