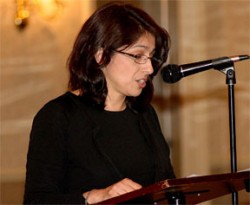 State Rep. Elizabeth "Lisa" Hernandez (D-Cicero) attended a ceremony Monday where bills to ensure veterans have access to proper health care and receive priority when applying for state jobs were signed into law.
Senate Bill 40 creates the Illinois National Guard State Active Duty Fund to be used to support expenses for the Illinois National Guard for State Active Duty, allows for the transfer of approximately $1.3 million in federal money to the newly created Illinois National Guard State Active Duty Fund for expenses incurred from the deployment of Illinois National Guard soldiers for emergency blizzard or flood duty, and suspends the repeal of the Veterans' Health Insurance Program Act of 2008 that would expire in January 2012.
Senate Bill 1587 waives the collegiate educational requirements for applicants for employment with the Illinois State Police if they have been awarded a medal for military services in Afghanistan or Iraq. Applicants would still be required to attend all the required law enforcement training. For more information, please contact Hernandez's constituent service office at (708) 222-5240.