science labs providing high-end technical equipment and collaborative learning spaces for students at Wright College, 4300 N. Narragansett, on Chicago's Northwest Side.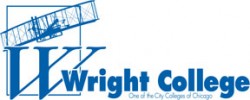 The new labs, aligned with the most current advances in electronics physics and math, are one of the investments being made in students and classrooms as part of the Reinvention of the City Colleges. The lab upgrades will ensure that students are better prepared to enter the workforce or transfer into a competitive bachelor's program. More than 1,500 students will benefit from access to these new resources each semester.
The new spaces at Wright College also will incorporate design elements such as sustainable landscaping, translucent resins, abundant lighting, borrowed daylight and greenery to boost student focus and concentration. The new labs are expected to open in fall 2012.