Conozca al Artista: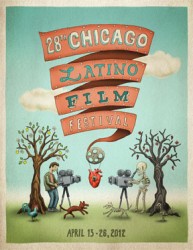 Jorge Pomareda es un diseñador gráfico peruano-mexicano, residente en Chicago. Creció en Costa Rica, donde empezó su carrera de publicidad y diseño. Más tarde se fue a Italia a estudiar en la Scuola Politecnica di Desigh en Milán. Su obra ha sido presentada en Diseño Anual Europeo de Print Magazine, Arts and the British Design y Art Directors Annual.
Sobre el Cartel:
"Para el Festival del Cine Latino de Chicago, quise hacer un cartel que fuera visualmente interesante, pero que dijera algo. Escogí el corazón como símbolo de la pasión… la pasión que se pone al hacer una película y la pasión que la película genera en los espectadores. El corazón está unido a la película como una máquina porque se apoyan uno al otro.
Un testigo de esta pasión es la vida y la muerte, una dualidad con un punto único de vista en la cultura latinoamericana, representada en cada lado del corazón por el director y su imagen en el espejo, la calavera. "El árbol de limón en el lado de la vida simboliza dominar la adversidad y hacer los sueños realidad; la muerte está representada por los chiles y las flores, que nos recuerdan que aún en los tiempos malos suceden cosas buenas. También incorporé elementos personales que me recuerdan mi niñez en Latinoamérica, como el gallo y el perro".