By: Ashmar Mandou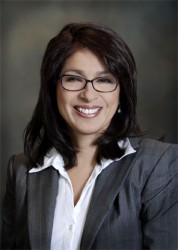 State Representative Lisa Hernandez often finds herself wondering if she is able to make it through the day without collapsing from lack of energy. "My days are filled with meetings after meetings," said Hernandez. "But I wouldn't have it any other way."
Hernandez, who spoke with us right after Governor Pat Quinn released the fiscal budget for 2013 on Wednesday, is excited at the prospect of representing her constituents once more in next month's election. "I live to do this. I have always had a knack for helping individuals in a crisis and I have always been a team player," said Hernandez. "We all have to work together if we want to see change."
Growing up in Cicero, Hernandez knows the importance of creating equal playing fields for all families to succeed. Coming from a working family household, Hernandez developed work ethic at an early age; a trait that has served her well as state representative. Hernandez spoke with Lawndale Bilingual Newspaper about what she looks forward to if re-elected.
Leaders in Springfield
It is disheartening to hear that many constituents have lost their faith in their local representatives. I know these last couple of years has been rough for families. And with the current fiscal budget released, I will be honest and say this coming year will be another tough one as we had to cut additional resources. I know we are all working hard, myself included, in bringing possible solutions for the working families across Cicero and Berwyn and Little Village. For individuals who feel nothing is being done, I would like to remind them that Illinois is the only state to have passed the Dream Act, something we fought long and hard for. On a local level, I fought, along with my peers, for the non-profit organization Through a Child's Eyes in Cicero, to remain open. That was a long battle that I believed in. I would like my constituents to know that I work hard to be part of the solution, not part of the problem.
Priorities
Being on the appropriation committee for two issues, Human Services and Childhood Education, I can tell you that in the last six years I have worked diligently to bring additional funding so that working families have options. Even through a deficit, we managed to maintain funding for several non-profit organizations. In my next term, I will continue to fight for the everyday working family by bringing more resources that will help stimulate job growth and continue creating more early childhood education programs.
Message
As I stated in the beginning of my term as state representative, I stand for reform and justice. As a child growing up in Cicero, I know how difficult it can be to get by sometimes. That is why I fight everyday for these families and I would like them to know I will continue to fight for individuals to reach their full potential.