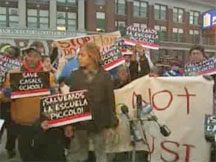 Parents of students at Brian Piccolo Elementary Specialty and the group Humboldt Park Parents gathered outside the school Friday afternoon to protest and speak out against the closure of the school by CPS. The rally followed an emotional press conference that morning at City Hall in which parents called upon Mayor Rahm Emanuel's office and CPS to invest in their neighborhood school so that their children can get quality education.
The rally was intended to speak out against a Chicago Board of Education proposal that would close Brian Piccolo Elementary Specialty without the approval or involvement of Local School Council (LSC). LSCs are guaranteed the opportunity to participate in developing and helping implement a school improvement process before schools can be slated for closure under Illinois School Code Section 34-8.3.
Parents are demanding transparency in the process of evaluating and addressing performance issues at schools, and ask the Board of Education to invest in the resources needed to make existing schools successful rather than wasting taxpayer money and resources on "turnaround" programs that have failed to produce consistent and measurable improvements in student performance, and that are not accountable to the public.