By: Ashmar Mandou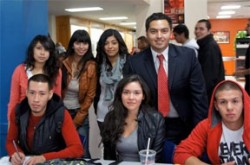 Candidate for State Representative of the 24th District Robert Rafael Reyes is feeling hopeful. In the last months, Reyes has knocked on a plethora of doors and listened to countless family members share their current struggles and worries. "I have to say it is difficult to hear their stories at times because I see myself in their eyes," said Reyes. "Their struggle becomes my struggle. So by nature I want to help them out in every way possible."
Reyes' affinity to help others came when he accompanied his aunt, who worked for the Salvation Army, on one of her site tours. That is when Reyes witnessed firsthand the real struggles of the working family. "That's when I decided I wanted to take a bigger role in our government to make sure that our government is working for the people," said Reyes. Reyes went on to work under the likes of L.A. Mayor Antonio Villaraigosa and Congressman Luis Gutierrez. "These men taught me to have passion in whatever I do and to never lose hope." Currently, Reyes is running for State Representative of the 24th District against incumbent Lisa Hernandez. Reyes shared why he believes change is needed and what he would work on if elected.
New Leaders in Springfield
People are tired of what they are seeing in Springfield. People are ready for a new generation of leadership and we deserve representatives who are truly representing their interests. For far too long, Springfield has been out of touch with raising taxes and not looking at how it affects residents. People need to vote on the interest of the people. People are hungry for change.
Priorities
Cicero and Berwyn have the least amount of funding for early childhood education and that is so important in the Latino community. It is extremely important we have our children ready to go to school from birth. If families do not have access to pre-kindergarten, or kindergarten, it sets us back. There have been some shortcomings on the educational front that we definitely want to do a better job at sustaining quality education.
Creating jobs is another priority of mine. If elected, I would create incentives for businesses to hire new employees. Small to medium size business would receive a $500 tax credit if they hire a new worker. If they hire two workers, the business would get two tax credits. If no workers are hired, the business cannot qualify for the program. The goal is to incentivize job growth.
Message
There are many good families in the neighborhood that need to be highlighted. And many changes that need to be done. If elected, I will work effortlessly to bring new resources to communities such as Cicero and Little Village and let young people know you can reach the American dream with hard work and persistence.