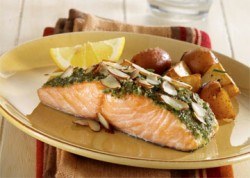 Salmon with Cilantro Pesto
Serves 4; 3 ounces fish and 1 tablespoon pesto per serving

Vibrant orange salmon fillets get a double dose of crunchy almonds, one in the pesto and one in the topping. The lovely green pesto is easy to make and gets a delightful flavor boost "without salt" from the garlic-herb seasoning blend. For a quick and pretty dish, scatter the almonds over the surface, as instructed below. If you prefer a fancier presentation, after spreading the pesto over the salmon, slightly overlap the almonds on the fillets to resemble fish scales, then bake as directed.

Ingredients:
Cooking spray (optional)
Cilantro Pesto
1/2 cup loosely packed fresh cilantro
3 tablespoons fat-free, low-sodium chicken broth
2 tablespoons sliced almonds
2 tablespoons shredded or grated Parmesan cheese
1 teaspoon salt-free garlic-herb seasoning blend
4 salmon fillets (about 4 ounces each), rinsed and patted dry
1/4 cup sliced almonds

Preheat the oven to 400°F. Line a baking sheet with aluminum foil or lightly spray with cooking spray.

In a food processor or blender, process the pesto ingredients for 15 to 20 seconds, or until slightly chunky.

Place the fillets about 2 inches apart on the baking sheet. Spread the pesto evenly over the top of the fillets. Sprinkle with 1/4 cup almonds.

Bake for 10 to 12 minutes, or until the fish flakes break off easily when tested with a fork.

NUTRITION ANALYSIS (per serving)

Calories 206
Total Fat 9.5g
Saturated Fat 1.5g
Trans Fat 0.0g
Polyunsaturated Fat 3.0g
Monounsaturated Fat 4.0g
Cholesterol 66mg
Sodium 129mg
Carbohydrates 2g
Fiber 1g
Sugars 0g
Protein 28g

Dietary Exchanges: 3 1/2 lean meat

This recipe is brought to you by the American Heart Association's Go Red For Women movement. Recipe copyright © 2005 by the American Heart Association. Look for other delicious recipes in American Heart Association cookbooks, available from booksellers everywhere or online at americanheart.org/cookbooks.

Watch for up to date information every week. If there is a specific health or nutrition related issue you would like more information on, please e-mail us at nutricion@lawndalenews.com or write to:

Lawndale News
5533 W. 25th St.
Cicero, IL 60804
ATTN. Fresh Take on Health and Nutrition Column from Jewel-Osco

Until next time!

As American Heart Month comes to an end, it's the perfect time to talk about fish. Fish is a great choice for a meal because it provides protein but it also offers a type of fat that is heart smart – the omega 3 fatty acids. Fish is surprisingly simple to make and creates an elegant presentation even on the busiest of nights. This particular recipe includes almonds, which offer up a heart smart fat and great flavor as well.