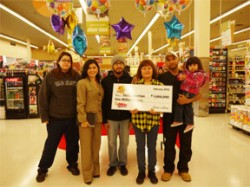 A Southwest Side Chicago woman was presented with an oversized check for $1,000,000 from the Illinois Lottery last Thursday. Elodia M. bought her winning Mega Millions ticket at Jewel Osco in Chicago. Elodia is thrilled that she won and is still in disbelief. "I went to the gas station by my house to check my ticket. I handed it to the clerk and she indicated that I had won. I decided to call my daughter right away. I read to her all the zeros that followed the number one and she told me that I had just won a million dollars."
This isn't Elodia's first time winning big, she won $10,000 two years ago also playing Mega Millions. She plans to pay off her mortgage, purchase a house for her daughter, pay a lot of bills and save the rest. Jewel received a $10,000 bonus, one percent of the jackpot amount, for selling a winning ticket. District Manager, David Negron, is very happy that they sold the winning ticket.
As with all lottery games, proceeds from Mega Millions, Powerball and Lotto will benefit the Common School Fund and the Capital Projects Fund. Last year, the Lottery transferred $690 million to the support education, capital projects and other good causes. To date, the Illinois Lottery has contributed over $17 billion to support education in Illinois.