Algunos de los más conocidos atletas profesionales de Chicago pasarán a la tribuna para recibir honores en la Entrega de Premios No. 24 de Comcast SportsNet Sports Awaads entregado por Navistar en beneficio de March of Dimes. En las dos últimas décadas, Comcast SportsNet Sports Awards ha recaudado cerca de $8 millones para March of Dimes. El banquete será el lunes, 13 de febrero, en Sheraton Chicago Hotel and Towers.
Los homenajeados son los mejores atletas de equipos profesionales de Chicago que han hecho considerables contribuciones a sus equipos y a la comunidad de Chicago. Los galardonados de este año incluyen a Carlos Boozer (Bulls), Corey Crawford (Blackhawks), Kerry Wood (Cubs), Alexei Ramírez (White Sox), Logan Pause (Fire) y Earl Bennett (Bears). Además, la leyenda de los Blackhawks/Embajador del Equipo/Hockey del Salón de la Fama, Tony Esposito, será galardonado con el Premio "Lifetime Achievement Award". En el momento cumbre de la velada, el premio "Atleta Inspiracional" de March of Dimes le será entregado a Tywaun Crain, de 16 años de edad, de la comunidad North Lawndale de Chicago. Tywaun ha perseverado como atleta y como estudiante, a pesar de haber nacido con parálisis cerebral.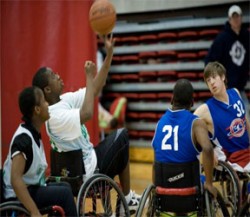 March of Dimes es la organización líder no lucrativa pro salud del embarazo y el bebé, que lucha por mejorar la salud de los bebés, previniendo defectos de nacimiento, nacimientos prematuros y mortalidad infantil. Para últimos recursos e información, visite www.marchofdimes.com o www.nacersano.org.