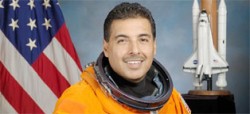 The United States Hispanic Leadership Institute (USHLI) announced the launch of its 2012 Student Leadership Series, the boldest initiative in the Latino community that will challenge over 40,000 students in 40 cities in 30 states to stay in school, improve their academic performance, graduate, and pursue post-secondary education or training. Walmart, furthering their commitment to providing educational opportunities to diverse communities across the country, served as the Title Sponsor of the Student Leadership Series.
USHLI President Dr. Juan Andrade said, "Jose Hernandez is a living, breathing Ph.D. That's a doctorate in persistence, hard work, and determination." NASA declined his application numerous times, enough times to discourage anyone from trying again. But Dr. Hernandez rejected rejection. By studying and finding jobs that would strengthen his application, he was accepted and fulfilled his dream of becoming a NASA astronaut, and eventually was chosen to be the Flight Specialist on the space shuttle Discovery."
The Series is designed to help students in middle school transition into high school, help students in high school transition into post-secondary education or training, and help students in college transition into graduate school or a career. According to Dr. Andrade, the goal is to create a Latino community in which every household has a first-time high school graduate, or a first-time college student, or a first-time college graduate.