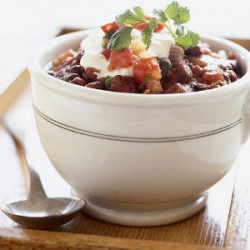 Black Bean Chili
Recipe courtesy of www.allrecipes.com
Submitted by: JANED

Servings: 8

Ingredients:
1 tablespoon olive oil
1 onion, chopped
2 red bell peppers, seeded and chopped
1 jalapeno pepper, seeded and minced
10 fresh mushrooms, quartered
6 roma (plum) tomatoes, diced
1 cup fresh corn kernels
1 teaspoon ground black pepper
1 teaspoon ground cumin
1 tablespoon chili powder
2 (15 ounce) cans black beans, drained and rinsed
1 1/2 cups chicken broth
1 teaspoon salt

Directions:
1. Heat oil in a large saucepan over medium-high heat. Sautee the onion, red bell peppers, jalapeno, mushrooms, tomatoes and corn for 10 minutes or until the onions are translucent. Season with black pepper, cumin and chili powder. Stir in the black beans, chicken broth and salt. Bring to a boil.

2. Remove 1 1/2 cups of the soup to food processor or blender; puree and stir the bean mixture back into the soup. Serve hot by itself or over rice.

Watch for up to date information every week. If there is a specific health or nutrition related issue you would like more information on, please e-mail us at nutricion@lawndalenews.com or write to:

Lawndale News
5533 W. 25th St.
Cicero , IL 60804
ATTN. Fresh Take on Health and Nutrition Column from Jewel-Osco

Until next time!

The nice thing about this favorite, easy to make dish is that there are so many ways to enjoy it. Most chili starts with a tomato base, beans, and lean ground meat so it's off to a great start since the lean meat and the beans provide protein, and the tomatoes add richness and nutrients like vitamin C to the mix. Tossing in more veggies enhances the richness of flavor and adds nutrition in every bite. If pasta is part of your chili bowl, make it whole wheat/high fiber, and remember to use low sodium broth and a heart smart oil to sauté vegetables instead of butter or other solid fat. Here's a veggie-filled recipe to try that can be served over rice. Garnish with cilantro, parsley, or a sprinkle of reduced fat cheese shreds for a nice presentation when entertaining.