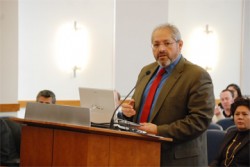 Cicero & Officials of Commonwealth Edison and its parent company Exelon detailed a multi-million plan to upgrade their electrical grid beginning with improvement in the Town of Cicero at a Town Board meeting Tuesday.
Fidel Marquez, ComEd's senior vice president of governmental and external affairs and chief governmental and community affairs officer, told board members that work has already begun on the improvements to help prevent future grid blackouts for Cicero's 55,000 customers.
Marquez noted that the region-wide upgrade is starting in Cicero and will continue over the next decade, but will show results for local residents fairly soon.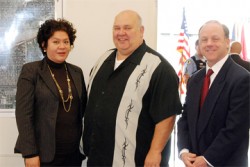 "ComEd is performing work in the village here that will improve the reliability of the service … over the next 10 years, ComEd will invest $10.2 million to replace thousands of miles of underground cables further reducing power outages during storms," Marquez said.
Town President Larry Dominick welcomed the improvements and Clerk Maria Punzo-Arias noted that the cost of the work will be paid by ComEd and will not involve increased fees or costs to taxpayers.
Marquez said that ComEd will be spending even more to digitize and upgrade the automated grid to digital standards to reduce outages for customers region wide by modernizing 10 existing sub-stations.
"The first one is the upgrade of our ComEd station in Cicero. That started March 5 with our underground cable replacement program. It will take four years to replace 10 miles of underground cable with 3 miles that will be done in 2012," Marquez said.
The improvements are a part of ComEd's ongoing investment in its electric system and as a result of the Illinois Energy Infrastructure Modernization Act passed by the Illinois General Assembly. The utility company is partnering with the Town of Cicero to make the significant system enhancements to improve reliability and performance for Cicero residents.