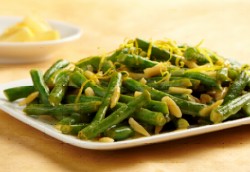 Lemon Dijon Green Beans
Preparation:
Prep Time: 10 minutes
Cook Time: 6-8 minutes
Amount: 4 servings

Ingredients:
2 tablespoons fresh squeezed lemon juice (about 1/2 lemon)
1 tablespoon Jewel® Dijon mustard
1 tablespoon Jewel® honey
1 teaspoon Jewel® olive oil
1 (12 ounce) package fresh green beans
1/4 cup Jewel® slivered almonds

Directions:
1. In small bowl, combine lemon juice, Dijon mustard and honey; whisk until well combined. Salt and pepper to taste; set aside.
2. In medium skillet, heat oil over medium-high heat. Add green beans and sauté until almost crisp-tender (about 5 minutes).
3. Add lemon Dijon mixture and almonds to green beans. Sauté until sauce has reduced and thickened slightly (about 1-2 minutes).

Watch for up to date information every week. If there is a specific health or nutrition related issue you would like more information on, please e-mail us at nutricion@lawndalenews.com or write to:

Lawndale News
5533 W. 25th St.
Cicero, IL 60804

ATTN. Fresh Take on Health and Nutrition Column from Jewel-Osco

Until next time!

Are you or someone in your family one of the many who don't eat enough fruits and vegetables every day? Spring is a fantastic time to start adding these brightly colored nutritional treats to the table – especially when celebrating! We have all been to parties where the fresh cut fruits and veggies are some of the first foods to go on the buffet because they are so delicious. Find recipes using your favorite vegetables and dress them up a bit for parties. Here is a refreshing side dish that works for spring parties and it's less than 100 calories per serving so it balances out higher fat party food nicely.