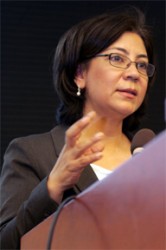 The Board of Directors of Gads Hill Center announced the appointment of Maricela Garcia as its new Chief Executive Officer. Garcia is the first Latinas in the agency's history to hold this position and succeeds Barbara Castellan who led this 114-year old non profit organization for the past 19 years.
Garcia has extensive experience in nonprofit management. She held the position of Executive Director at the Illinois Coalition for Immigrant and Refugee Rights and of the Latino Policy Forum. Most recently, she held the position of Director of Capacity Building and Juvenile Justice Policy at the National Council of La Raza (NCLR). "The Board of Directors is very excited about bringing Maricela Garcia to lead Gads Hill Center into the future," stated Jorge Cazares, board president.
Garcia is the sixth Chief Executive Officer in the 114 years that the organization has served Chicago families in the Lower West Side. "I am excited to join an organization that for more than a century has helped families make a better life. I pledge to work hard to accomplish the mission of Gads Hill so that our children and youth have the opportunity to achieve their full potential," stated Garcia.