By: Ashmar Mandou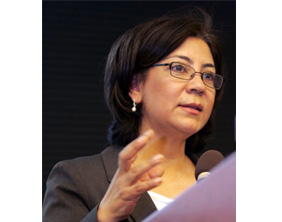 Maricela Garcia, the new chief executive officer of Gads Hill Center, is used to high expectations. Whether it was leaving her war torn country of Guatemala during the 80s to seek higher education in America, overcoming language barrier during her college years, or taking on leadership positions with exemplary non-profit organizations such as, Illinois Coalition for Immigrant and Refugee Rights, Latino Policy Forum, and the National Council of La Raza, Garcia is vehement to attribute her accomplishments to her solid family foundation. "I had the expectations from my family that I was supposed to do well," said Garcia. "I don't think they always told me how, that's something I had to figure out, but the expectations were always very high. I learned to internalize those expectations, so if I ever encountered a problem, my responsibility was to learn how to overcome them."
As the first Latina CEO in Gads Hill Center's 114-year history, Garcia is fully aware all eyes will be on her to see which direction she will take the organization in the coming years. "You know, I learned the importance of civic duty from an early age. I knew the importance of vocalizing and demanding what I wanted to see changed in my community. I saw women in my community, who in spite of all the challenges, were strong women…I saw their commitment to their community. Through all those experiences, I am looking forward to being a part of an organization that honors and nurtures those strengths." With a Master's Degree in Social Work from the University of Illinois at Chicago and a fellowship at the Kennedy School of Government at Harvard University's Leadership Program, Garcia is ready to bring her steadfast commitment to help propel Gads Hill Center into the next phase of civic obligation.
How her appointment will inspire young women
I think that is one of the most important elements of this appointment. Many of the girls who come to the center, many of the families who bring their kids to our program can have high aspirations about their daughters because they see that it is possible for a Latina to be head of an organization that for more than a century has been providing services for residents in Pilsen. I think that in addition to being the person leading an organization it is also my responsibility to be a strong Latino role model for young girls in the community.
Skills acquired
I think what I brought to NCLR, Latino Policy Forum, and ICIRR was a strong leadership and vision of what impact the organization was supposed to make. I learned the ability to make people invested in an organization by giving them leadership opportunities and giving them the stability so that it's their organization. And what the organization does is very much what they would like to see so that it's not a one-person idea of what the organization should do, but it comes from the collective. From there, I think it's very hard to run organizations because you have to be very good at many things. But I think if you have a core group of people invested in the direction of the organization, it's easier and you don't feel isolated from the community you serve. To me, being the head of an organization is a humbling experience because what you're doing is serving a community that trusts you to lead an organization. Leadership to me is the opportunity to bring along many people and inspire many people to do their best.
Future of Gads Hill Center
I think that Pilsen is an incredible neighborhood and I think everyone in Pilsen knows that. I believe the challenge is to bring more people to Pilsen to see why they should invest in this community. We need to connect Pilsen with the greater vision of Chicago so our schools are more resourced; our communities have more access to opportunities that exist in the larger Chicago society. So it's really making sure that the resources that exist in other areas exist on an equal level here in Pilsen so that our families have the opportunities that other communities have. Also, Gads Hill Center needs to be an ambassador outside of the community to show the great potential of our kids, the strength of our families, and why investing in Pilsen, is investing in the future of Chicago.