Mom will love the efforts, and salads are more respected as a meal than ever. The 2010 Dietary Guidelines push us to a more plant based diet with half our plates filled with fruits and veggies so you will be quite trendy when you present a salad based meal to Mom. Crunch away – try this delicious dish to get started! It calls for center cut bacon which is a bit of a better choice than traditional bacon.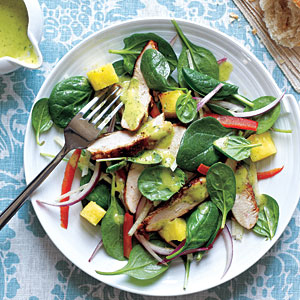 Grilled Chicken Spinach Salad
Preparation:
Prep Time: 20 minutes + marinating
Cook Time: 15 minutes
Amount: 8 servings

Ingredients:
1 pound wild harvest™ natural boneless, skinless chicken breasts
3/4 cup wild harvest™ organic roasted garlic balsamic vinaigrette ,divided
1/2 loaf wild harvest™ organic ciabatta bread , cut in half horizontally
– wild harvest™ organic extra virgin olive oil
1-2 cloves garlic, peeled
2 (5 ounce) containers wild harvest™ organic fresh spinach leaves
9 slices center cut bacon, cooked and crumbled
6 ounces crumbled reduced fat blue cheese
2 large tomatoes, seeded, chopped
2 large ripe avocados, pits removed, peeled and chopped
3 hard boiled wild harvest™ organic large brown eggs , chopped

Directions:
1. Combine chicken breasts and 1/2 cup vinaigrette in a 1-gallon recloseable food storage bag; seal. Toss to coat; marinate, refrigerated, 30 minutes or up to overnight.

2. Prepare grill to medium heat. Remove chicken from marinade; discard marinade. Place chicken on grill; grill 10-12 minutes or until internal temperature reaches 170°F, turning once. Remove from grill and let stand 5 minutes; cut into bite size pieces.

3. Meanwhile, brush bread with olive oil. Place on grill; grill until golden brown (about 3-5 minutes). Remove from grill. Pierce garlic clove with a fork; using fork, rub both sides of bread with garlic clove. Cut into cubes; set aside.

4. In large bowl, combine spinach, bacon, blue cheese and remaining 1/4 cup vinaigrette. Add in chicken, bread, tomatoes, avocado and eggs; gently toss. Divide among 8 large salad plates or bowls. Serve immediately.

Watch for up to date information every week. If there is a specific health or nutrition related issue you would like more information on, please e-mail us at nutricion@lawndalenews.com or write to:

Lawndale News
5533 W. 25th St.
Cicero, IL 60804
ATTN. Fresh Take on Health and Nutrition Column from Jewel-Osco

Until next time!

Happy Mother's Day to all the Moms (and daughters celebrating moms)! If you want to treat Mom this year, celebrate on the plate with a springtime fresh salad! This helps celebrate spring, keeps health in mind, and bonus – it keeps mealtime preparation and clean up to a minimum for you! The other great thing about salads is they are easy enough for the little ones to help prepare for their mommies (with supervision, of course). Kids can help with setting the table, washing the produce, tossing the salad – and even peeling the oranges to slice into greens!