By: Carlos Acevedo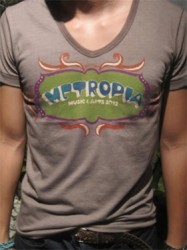 For the Chicagoans who sent a request to the festival gods asking for something new…your request has been answered. A new, two-day festival that will feature local artists and musicians will debut in Chicago on Thursday June 7. The Metropia Experience (Metropia) festival will launch at 2pm, June 7-8, at Architectural Architects, Inc. (a.k.a. Atrium Events), and an 80,000 square foot facility located at 4325 N. Ravenswood. Omar Barragan, creator and executive producer of The Metropia Experience said that this unique festival will provide a platform for the local music scene to be seen. There will also be live art performances. "Fortunately we have come across an array of great talent and we will have aerialist, jugglers, spontaneous skits produced by local actors," said Barragan.
The Metropia Goal
"Metropia seeks to provide a platform to that artist that hasn't emerged or is emerging, the artist that has a strong following but hasn't made it big enough to be invited to a festival of a larger scale. Metropia is meant to give them that extra push to hopefully elevate them a little further in their desires and hopefully they will become more mainstream," said Barragan.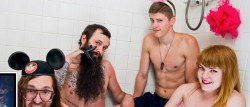 The Music
There will be over 25 different bands playing throughout the two days.
The music lineup will include Marina City, The Night Survives, Jaded, Milano, Shut Eye, Take The Day, The Bears of Blue River, Fathom Blue, just to name a few. Of the many bands performing, only two bands are from out of town. Take The Day is from Wisconsin and Fathom Blue is from Indiana.
"There are some festivals throughout the country that highlight really huge acts but I've noticed that a lot of the local talent that already exists in these markets is overshadowed by the bigger names. I decided to come up with this concept that can be embraced by anyone and everyone, primarily because it will embrace the music scene," said Barragan.
Metropia = Eco Friendly
According to Barragan, Architectural Artifacts was chosen as the festival site because it promotes sustainability and the repurposing of materials. "Metropia is very eco-friendly and we are going to have on-site composting and recycling. We want to make sure that our carbon footprint is kept as minimal as possible," said Barragan.
The Cost
A two-day pass is $110, single day pass is $65 and there is a student rate of $27 per day pass. If you want a discount off your ticket purchase, Barragan mentioned that some of the bands are offering discount codes through their social media profiles and websites.
Anyone interested in showcasing artwork may send a portfolio or links to info@ baopromotions.com. "I hope that Metropia will help educate people on what the music scene in Chicago has to offer as far as non-mainstream but also educate people how to consider the environment. If people want to escape their day-to-day and immerse themselves in this melting pot of Chicago culture, art and music, that's The Metropia Experience," ended Barragan.