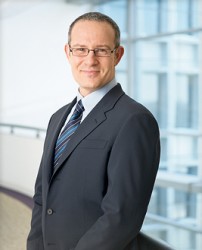 In a little more than ten years, Gregory A. Wiener, MD, FACS, has transformed his primarily reconstructive surgery practice into a cosmetic practice and has become one of the top cosmetic surgeons in the country. Board-certified in plastic surgery, Dr. Wiener excels at Brazilian butt lift, butt implants, breast augmentation, breast reduction, rhinoplasty, and mid-facelifts. After receiving his medical degree from the University of Kansas, his home state, he completed a general surgery residency at Rush Presbyterian-St. Luke's Hospital in Chicago and then went on to complete a residency in plastic surgery at the University of Illinois at Chicago Hospitals. Listed in the Guide to America's Top Surgeons published by the Consumers' Research Council of America, he has been interviewed on his areas of expertise by numerous newspapers, magazines and television shows.
What motivated you to specialize in plastic surgery?
Dr. Wiener: I decided I wanted to be a doctor in the fourth grade when an enthusiastic science teacher spurred my interest in anatomy and biology. During medical school I was considering cardiology as a specialty, but as I continued my general surgery rotation, I ran into a plastic surgery resident who was working with children repairing cleft palates and other disfiguring conditions. After following him around, I knew this was for me. I was drawn to plastic surgery because it involved a more refined, artistic type of work. I had always been interested in art history and the human form.
After completing my medical degree, I pursued general surgery at Rush Presbyterian-St. Luke's Hospital. I finished my general surgery residency and completed board-certification in that specialty as well. It was a great experience, but I knew I wanted to be a plastic surgeon and during my final year in 1996, I applied for a plastics residency at the University of Illinois at Chicago Hospitals.
While at UIC, I had the opportunity to work with many talented surgeons. In addition to honing my surgical skills, one of the most important things I learn was: don't try to fit each patient into a specific category or procedure. It's important to continue to ask yourself if what you are doing is the right thing to do. There are lots of different ways to arrive at good results and a thoughtful approach is needed.
What has been the highlight of your career?
The highlight of my career so far has been making the transition to a primarily cosmetic practice. When you're on your own, as I was, making that transition doesn't happen overnight. It involved many nights in the ER fixing complicated lacerations and dog bites in children as well as doing quality reconstructive work. Perhaps it is because of my artistic inclination, but I find cosmetic surgery extremely interesting. I like the challenge of keeping the look natural. My practice is now more than 80 percent cosmetic, although I still do reconstructive breast surgery, skin cancer, and take ER call.
My wife Zuzana was my office manager before our son was born—Big Dave is four years old now. Zuzana was instrumental in my jump to a cosmetic practice. She was a great patient coordinator, which is very important for any cosmetic practice. Zuzana is extremely intelligent and superb at dealing with patients. She can do an evaluation almost as well as I can. She still comes in a couple of times a week and brings the babies – Dave, 4, and Lucy, 2, – to keep an eye on things, but now with a different title, the CFO of my growing clinic.
Describe your current practice.
Dr. Wiener: My current practice employs a full-time office manager, two bilingual patient coordinators (polish, spanish), one full-time front desk assistant, one full-time marketing manager, two nurses (four days a week) and one esthetician.
In addition to surgery, I'm very involved in many of the noninvasive cosmetic procedures. They not only complement cosmetic surgery, but stand on their own. Patients need good skincare and they are asking for procedures with less downtime.
It's the nature of the industry today—people want maximum benefits with minimal downtime. Fortunately, technology is improving almost daily. I don't think you can practice plastic surgery today without being involved in noninvasive procedures. I spend 25 percent or more of my time consulting with patients on everything from peels to IPL to hair removal, as well as doing filler injections and some neurotoxin injections—I have quite a few Botox Cosmetic (Allergan) regulars. These services keep me in touch with patients. Each visit is like a mini consult. We are always talking about the next step.
I'm also interested in skincare and I counsel patients on taking care of their skin at home. Topicals are part of the full spectrum of care and are essential for the best results.
We dispense our own line of skin care products, as well as La Roche-Posay. I work closely with my esthetician and consult with her on patients regularly. Her treatment plans may involve everything from skin care, to light laser peels, to vein treatments.
If you would like to learn more about The Art of Plastic Surgery, call 773-763-3990. Or visit, www.theartofplasticsurgery.com.