By: Ashmar Mandou
Mothers across the city have decided to stage a hunger strike at Our Lady of Guadalupe Anglican Catholic Mission to denounce two hospitals that have refused to continue treatment to their undocumented sons. For close to a week, mothers have held signs and refused food, in order to bring awareness to what they call an 'injustice' on a larger scale. "Our children are facing fatal illnesses and we are saddened to learn that hospitals such as, Loyola Medical Center and University of Illinois Medical Center have refused to answer our letters or take our calls," said Hilda Burgos. Allegedly, families such as, the Arroyo brothers and Jorge Mariscal have been denied access to treatment based on their illegal status. "We are denouncing these medical centers because they are putting money above all else, even above saving peoples lives," said Father Jose S. Landaverde. "This goes completely against God's Will. Life is God's greatest gift, we must do all that we can do as a community to preserve every gift of life. We will continue to hold a hunger strike until we receive a response." They are currently reaching out to the community to become more aware and to help out in any way they can.
Jorge Mariscal, 23
"This is a great injustice and we think it's wrong and unfortunate the way certain hospitals treat the undocumented. It's sad to know certain medical centers value money more than human life." –Jorge Mariscal
Life for an average 23 year-old is often comprised of traveling aspirations, career goals, academic achievements, and social gatherings. However, life for 23 year-old, Jorge Mariscal, a Melrose Park resident, has become one of bitter hospital battles and survival. At the age of 16, Mariscal was diagnosed with kidney failure, a grim diagnoses that, to this day, is still unclear as to what might have caused it. In complete shock, Mariscal and his mother forged ahead and took the necessary measures for Mariscal to receive a kidney transplant. But what began as a promising move proved to be a harsh reality for both mother and son. "At the time of my diagnoses, former Governor Rod Blagojevich passed the All Kids Care act, which allowed for the undocumented community, the under-insured, or non-insured community to receive medical treatments. It also covered transplants," said Mariscal. "Sadly, my family and I were not informed by the medical staff at Loyola Medical Center until I was about to turn 18. Because I was soon to be legally an adult, I was unable to receive further treatment or undergo a kidney transplant under All Kids Care."
It was an emotional and mental blow to Mariscal and his mother, who were encouraged to return to Mexico for medical attention. "As a mother, I would die for my son," said Ms. Mariscal. "I am a mother in utter desperation. The hospital has not responded to our letters, or calls. These hospitals are letting our family members die simply because we do not have proper documentation."
Currently, Mariscal is undergoing dialysis, and has been for the last seven years, but wonders how long he will be able to endure in this fight should he fail to receive immediate treatment. "It's hard to know that I might not be able to live out my dreams. I want to become a graphic designer. I need to be healthy in order to do that," said Mariscal. If Loyola Medical Center continues to remain silent, Mariscal says his next step will be to contact community hospitals that have shown interest in the past. "My son is a fighter. I know my son will live, my son has to live," said Ms. Mariscal.
Arroyo Brothers
Elfego, Lorenzo Arroyo
"I do not want my kids to live the same sadness as I did as a child the day I lost my father. Even though I do not have the energy, I must continue to work to make sure they will be okay." -Elfego Arroyo.
"We are asking the community, politicians, and community hospitals to become more involved and to help us in our mission. People need to wake up and see what is going on and what the struggle is like for the undocumented with medical conditions." –Lorenzo Arroyo.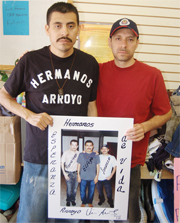 Elfego, Lorenzo Arroyo migrated from Mexico to Chicago in the mid 90s, with high aspirations for a better life. "This was a land of opportunity," said Lorenzo. "We knew we would have a better start here." They found themselves reuniting with their brother Francisco, mother, and the rest of the Arroyo clan. All seemed well, until Elfego and Lorenzo's mother took a turn for the worse. "She became bed ridden. She had no energy. We couldn't figure out what was happening," said Elfego. Until medical records sent to a hospital in Mexico diagnosed her with Amyloidosis, a disease that occurs when substances called amyloid proteins build up in your organs. This disease can affect the heart, kidneys, liver, spleen, nervous system, and gastrointestinal tract. The only way to survive is with a transplant.
As the brothers scrambled to pull their finances together to afford a transplant for their mother, it became apparent that their own health began to deteriorate. "Two months before the passing of my mother, we were informed that all three of us had Amyloidosis," said Lorenzo. "We had no words. This was two years ago." Francisco was able to undergo a transplant as he is the only Arroyo brother of legal status. For Elfego and Lorenzo they wait with steady hope for their outcome to soon change. Lorenzo has reached out to the University of Illinois Medical Center for medical treatment, but has been turned away after a year of correspondence. For Elfego, he currently is receiving some aid through John H. Stroger Jr., Hospital, but insists his road to landing a liver transplant is grim. "These medical centers have to become more compassionate and not discriminate against us because we have no papers," said Elfego. "We don't want this opportunity to live to slip from our hands," said Lorenzo.