www.choosemyplate.gov
for more information.
Try these easy ideas for getting in your dairy servings plus fruits and vegetables:
Serve fat free or low fat yogurt with fresh fruit at breakfast
Try bell pepper rings, grape tomatoes, and string cheese for a snack
Add reduced fat cheese to salads, sandwiches, and casseroles
Mix salsa with fat free yogurt to dip vegetables in
Drink low fat milk with meals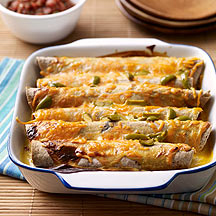 Cheesy Chicken Enchiladas
Preparation:
Prep Time: 20 minutes
Cook Time: 30 minutes
Amount: 4 cups servings
Ingredients:
1 teaspoon Jewel® vegetable oil
1 medium onion, sliced
3 cups cooked and shredded boneless, skinless chicken breasts
1 (8 ounce) carton Jewel® sour cream (try the light version)
1 (4 ounce) can diced green chiles, drained
1/2 teaspoon Jewel® salt
1/4 teaspoon Jewel® chili powder
1 (8 ounce) package Jewel® fancy shred Colby jack cheese, divided (try the 2% milk option)
1 cup chunky salsa
1/4 cup water
1/2 teaspoon cumin
8 (10-inch) flour tortillas
Directions:
1. In medium skillet, heat oil over medium heat.
2. Add onions and sauté until softened (about 2-3 minutes); cool slightly. In large bowl, combine chicken, sour cream, green chiles, salt and chili powder.
3. Stir in sautéed onions and 1 cup cheese; set aside.
4. In small bowl, combine salsa, water and cumin.
5. Spread 1/2 cup salsa mixture in bottom of a 9×13-inch baking dish that has been sprayed with Jewel® no stick cooking spray.
6. Divide chicken mixture evenly among tortillas; roll-up tortillas.
7. Place in pan seam side down.
8. Pour remaining salsa mixture over tops of tortillas; sprinkle with remaining cheese. Bake in a preheated 350°F oven, uncovered, for 30 minutes.
9. Serve with additional sour cream, if desired.
Watch for up to date information every week. If there is a specific health or nutrition related issue you would like more information on, please e-mail us at nutricion@lawndalenews.com or write to:

Lawndale News
5533 W. 25th St.
Cicero, IL 60804
ATTN. Fresh Take on Health and Nutrition Column from Jewel-Osco

Until next time!

Did you know that dairy (milk, cheese, yogurt) has nutrients that are important for many health related benefits, including bones, teeth, and blood pressure? Dairy has calcium, protein, potassium, and vitamin D, in addition to other nutrients. Make smart choices to get the most nutrition for the calories by reading labels. Choose low fat and fat free milk, cheese, and yogurt In general, adults and kids 9 and older need three servings of dairy a day (unless allergies are present). Visit