By: Celia Martinez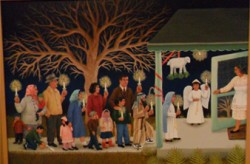 Mexican culture is known for celebrating everything. From baptisms early in life to rites of passages, such as the Quinceñera and well into the afterlife with the celebration of the Day of the Dead, the National Museum of Mexican Art, celebrating their 25th anniversary, attempts to showcase just that in their exhibition titled, "El Alma de la Fiesta."
Featured in the Museum's main gallery, "El Alma de la Fiesta," explores well known Mexican celebrations, such as Cinco de Mayo, Day of the Dead, and Day of the Virgin of Guadalupe, with paintings, sculptures, masks, costumes, alters and instruments.
Upon entering the exhibit, be prepared to be greeted by an alter of "calaveras" or skeletons, infamous in Mexican culture and signifying the Day of the Dead. Traditional "campesina" dresses and "charro" outfits are displayed along with wooden instruments such as drums and the violin.
Religious intonations are evident as sculptures of the Virgin of Guadalupe are displayed throughout and paintings of holy week celebrations such as the "posadas," the recreation of a pregnant Virgin Mary and Joseph seeking shelter, are mounted on the walls.
Informative and engaging, "El Alma de la Fiesta," uses diverse methods to provide an enjoyable learning experience by teaching Mexican culture through celebrations. The exhibit will run through August 19th. Admission is free.