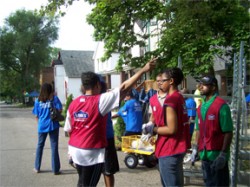 This month Neighborhood Housing Services of Chicago (NHS) in partnership with Lowe's completed two beautification projects in one of NHS' targeted neighborhoods, Auburn Gresham. NHS of Chicago was awarded a $100,000 grant from Lowe's this year to complete the two projects in the neighborhood.
The first project was completed on the 7800 Block of South Aberdeen in the City of Chicago's micro-market program area as part of its 25th Annual NeighborWorks® Day on Saturday, June 2. For the project, volunteers from Lowe's and community leaders distributed home safety kits containing smoke and carbon monoxide detectors, and assisted with "curb appeal" and facade improvements to 30 to 40 existing homes.
On Saturday, June 16 NHS of Chicago, along with Lowe's volunteers and local residents, completed the second project for the grant. The project took place on the blocks of 400 W. 79th Place, 400 W. Vincennes, 400 W. 80th and 7900 S. Normal. The project began with a landscaping workshop conducted by Lowe's to show homeowners the proper way to plant flowers. In total 47 homes were impacted by the projects. For more information on NHS, please call (773) 329-4010 or visit www.nhschicago.org.