By: Ashmar Mandou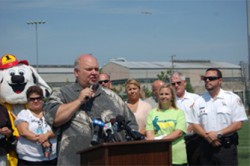 Cicero Town President Larry Dominick has a message for Chicago Mayor Rahm Emanuel. "Any time the mayor of Chicago would like to visit Cicero and see how our police department combats gang violence, he is more than welcome to do so."
During a press conference earlier in the week to kick-off Cicero's sixth annual Cease Fire Week in collaboration with Corazón Community Services, Dominick revealed the fact that Cicero has seen fewer homicides in the last year compared to the City of Chicago that experienced over 200 homicides in 2012, according to the Chicago Police Department.
"What happens in Chicago impacts the Town of Cicero and all of the neighboring suburbs. So if Chicago is more successful, suburban communities like Cicero can be more successful, too," said Dominick, noting he is not criticizing Mayor Emanuel's efforts. The key to their success, Dominick claims, is getting community and residents involved. Cicero created the SOS Task Force which brings together Town Services and Agencies to provide response to resident needs that can range from removing graffiti to street gang activities. In addition, the SOS Task Force sends out employees to meet with residents one-on-one to offer advice on ways to help out and lend their time in making the streets of Cicero safer.
"Cicero Police hold outdoor roll calls in the neighborhoods and that reinforces the public's confidence and it encourages them to voice their concerns," said Dominick. This year, Cicero has only experienced one gang related killing, a number Mary E. Johnson, A.M., executive director at Corazón Community Services, believes is an improvement compared to past records. "Violence of all forms has plagued our community, but recently we have begun to see changes. It is during this event that we both combat that violence and celebrate new peace," said Johnson during the press conference. "We appreciate all of the support that has been given to Corazón and Cease Fire from our elected officials and community partners in helping us create positive solutions within our communities."
This year, Cease Fire Week marks the largest and most expansive collaboration with a list of free activities offered through Saturday, June 23. The premise behind each event is to engage every community member through family-oriented activities, educate parents on how to look for signs of trouble, and offer families a platform to express their sorrow over the loss of a loved one during their Peace March, set to take place this Friday on the corner of 23rd and 50th Ave. "It is great to see the community come together like this. It is something to celebrate and something to be very proud of," said Johnson.
Currently, Corazón serves well over 17,000 youth and families every year thorough its core program departments, youth services, health education and community initiatives. Dominick and State Representative Lisa Hernandez, who was also in attendance during Monday's press conference, attributes Cicero's success in diminishing gang-related violence to organizations such as, Corazón and Cease Fire that are heavily involved in their communities. "I am thrilled to be here to witness this strong community support and to see youth taking action against violence," said Hernandez. "It is for this very reason I fight really hard to continue to bring resources and funding to these organizations that serve so many families in our community."
Cease Fire is co-sponsored by many community organizations such as, Corazón Community Services, United Way of Metropolitan Chicago, Neighborhood Recovery Initiative, Cicero Youth Task Force, and BMO Harris Bank, to name a few. All events during Cease Fire Week are free of charge. To register or to receive a schedule of events, call Corazón Community Services at 708-656-1400.