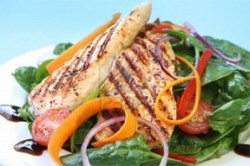 Grilled Chicken & Spinach Salad
Preparation:
Prep Time: 15 minutes + marinating
Cook Time: 10-12 minutes
Amount: 4 servings
Ingredients:
1 pound Jewel® Boneless, Skinless Chicken Breasts
1 cup Culinary Circle® Applewood Honey Mustard Marinade, divided
3 Tree Ripe white nectarines, halved, pits removed
1 (5 ounce) package wild harvest® Fresh Baby Spinach Leaves
1 pint fresh raspberries
4 ounces reduced fat blue cheese, crumbled
½ cup walnut pieces, toasted
Directions:
1. Place chicken and ½ cup marinade in a 1-gallon recloseable food storage bag; seal. Toss to coat. Place in refrigerator and marinate 30 minutes or up to overnight.

2. Prepare grill to medium heat. Remove chicken from bag; discard bag. Place chicken on grill; grill, turning once, 10-12 minutes or until internal temperature reaches 170°F on an instant read thermometer, brushing with additional marinade as needed.

3. Place nectarine halves, face down, on grill about 5 minutes after chicken. Grill until caramelized, turning once (about 5 minutes), brushing with additional marinade occasionally.

4. Slice chicken and nectarines. Toss spinach with ¼ cup marinade. Add raspberries, blue cheese and walnuts; gently toss. Divide salad among 4 dinner plates. Top each salad with chicken and nectarines.
Watch for up to date information every week. If there is a specific health or nutrition related issue you would like more information on, please e-mail us at nutricion@lawndalenews.com or write to:

Lawndale News
5533 W. 25th St.
Cicero, IL 60804
ATTN. Fresh Take on Health and Nutrition Column from Jewel-Osco

Until next time!

Summer is perfect for enjoying colorful, crisp, fruits and vegetables. They are refreshing due to their high water content, delicious, and easy to prepare – especially since you don't have to cook them! Salads are a great way to plan a balanced, delicious meal – start with your favorite greens, and summer veggies like bell pepper and tomato, then add leftover grilled shrimp, chicken or lean meat. Sweeten the greens with fruits and you have 3 out of five food groups. Remember to pay extra attention to the "extras" like croutons and dressings so calories stay in check. Need some inspiration? Here's a tasty recipe to try tonight!