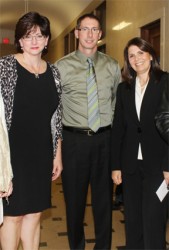 El aniversario de una compañía es motivo de celebración, pero cuando es una organización no lucrativa, dedicada a salvar vidas, la razón para celebrar es aún más grande. Este julio señala el 25 aniversario de la Red de Donantes de Organos y Tejidos Gift of Hope.
Su misión es muy sencilla, salvan y prolongan la vida de muchas personas tanto como sea posible, gracias a la donación de órganos y tejidos en Illinois y el Noroeste de Indiana. Hasta la fecha, la organización ha ayudado a salvar más de 18,000 vidas y ha mejorado la vida de cientos de miles más.
A pesar de su éxito, sigue siendo un desafío, de acuerdo a Raiza Mendoza, Coordinadora de Enlace Comunitario y Relaciones Públicas de Gift of Hope. Muchos en la comunidad latina continúan creyendo en los mitos y conceptos erróneos sobre la donación de órganos y como resultado, impiden la motivación de los latinos a registrarse como donantes. "Por esta razón, continuamente desarrollamos campañas educativas para reemplazar los mitos con hechos, lo que ha logrado un cambio positivo en la comunidad latina", dice Mendoza.
De acuerdo a UNOS*, actualmente hay 114,000 personas a nivel nacional esperando un órgano, 5,000 de los cuales son de Illinois. Dieciocho personas mueren todos los días esperando un transplante que pueda salvarles la vida, lo que significa que 6,000 personas mueren cada año por la falta de órganos disponibles para un transplante. Cada 11 minutos álguien se agrega a la lista de espera.
Mendoza pide a todos los latinos que se unan a la causa y se inscriban como donantes en el Registro de Donantes de Organos y Tejidos de Illinois.