By: Carmen Lopez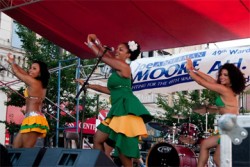 Celebrate Clark Street Festival brings peace and harmony to the Rogers Park neighborhood. However, it is the people behind the festival that allow this to happen. Ana Bermudez is the community development coordinator at the Rogers Park Business Alliance, but she also serves as an organizer for the Clark Street Festival. Bermudez sets the festival's tone, for she is vibrant, welcoming and caring. Upon interacting with her, one can sense her passion for promoting cultural awareness which is one of the goals of the seventh annual Celebrate Clark Street Festival.
As the years have passed, the festival has increased in popularity. This new popularity is not only with Rogers Park residents, but with people from all over the city. "I remember when I was a vendor; there were probably two or three thousand people. Now there are 25 to 30 thousand," Bermudez recalls.
The Celebrate Clark Street Festival is very family friendly; therefore, organizers provide arts and crafts vendors for younger audiences. The festival is popular amongst local families because it provides a safe and positive environment. The food is also very popular amongst attendees. Even though the majority of the majority of the food is Mexican, it varies in geographical location. "It wasn't until I came to the festival a few years ago that I found out there are three different kinds of pozole," Bermudez said.
The music at the festival has transformed Rogers Park, "it definitely has put us on the map for music," Bermudez said. Rogers Park is very diverse, so the festival focuses on exposing people to different cultures to promote cultural awareness. "What we are trying to do is show music from all over the world," Bermudez said. Some of the musical acts are SMOD from Mali, Sarazino from Ecuador, and Empresarios from Puerto Rico.
The Celebrate Clark Street Festival will take place July 28 and July 29 in Rogers Park between Morse and Touhy Avenue. There is a suggested five dollar donation per person and a ten dollar donation per family to enter the festival. Despite the suggested donation, Bermudez mentioned that everyone is allowed in the festival even if they cannot afford to give a donation. The Rogers Park Business Alliance works hard to negotiate with vendors to keep food and beverage prices low, so that everyone in the neighborhood can enjoy the festivities.
The Celebrate Clark Street Festival showcases Rogers Park as a positive and diverse neighborhood. "I use myself as an example of how the festival opened my eyes to the neighborhood," said Bermudez. She mentioned this because prior to attending the Celebrate Clark Street Festival, Bermudez had never visited Rogers Park. She has noticed that attendees often mention that they will definitely return to Rogers Park long after the festival is over.